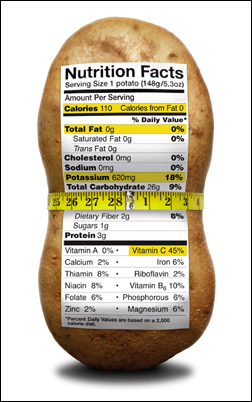 Unlike several other long-term studies, which have reported greater weight loss with low GL diets at six months but no differences by 12 months, our data show no significant short-term or long-term differences
Denver, CO. (PRWEB) May 23, 2007
A study recently published in the American Journal of Epidemiology concluded that consuming a variety of cooked vegetables, including potatoes, cooked in ways other than frying, was associated with a reduced risk of developing Type 2 diabetes.
Researchers at the University of Melbourne and the Cancer Council Victoria who worked independently from any food industry sponsors, investigated the association between a variety of dietary patterns and type 2 diabetes in a 4-year prospective study of 36,787 adults.
The results indicated that a dietary pattern characterized by meats and fatty foods was associated with increased diabetes risk while a dietary pattern characterized by a variety of salad and cooked vegetables, including potatoes cooked in ways other than frying, was associated with a decreased risk. Interestingly, when vegetables as a group (excluding potatoes) were examined independently the association with decreased diabetes risk disappeared.
The results are timely for America's favorite vegetable, the potato, and the U.S. potato industry, which has begun to bounce back in the wake of the low-carb diet fad. At the height of this fad, in 2004, a consumer survey conducted by the United States Potato Board (USPB) revealed limited or no knowledge of the healthful nutrients of fresh potatoes with skins, including 45% of the recommended daily value (DV) of vitamin C, 18% DV of potassium, and no fat, sodium, or cholesterol-- all for 110 calories per 5.3 ounce serving.
The Australian study adds to the growing body of evidence supporting the health benefits of a diet rich in fruits and vegetables, including potatoes. A study published this month in the American Journal of Clinical Nutrition conducted by the Jean Mayer U.S. Department of Agriculture Human Nutrition Research Center on Aging at Tufts University (USDA HNRCA) found evidence suggesting that when it comes to weight loss the glycemic load of the diet doesn't matter as long as calories are reduced.
The fiber intakes in both diets were at or above the recommended levels. In this study, 34 overweight, but otherwise healthy, men and women achieved and maintained similar weight and body fat losses after one year, whether they were on a low-glycemic-load or a high-glycemic-load diet. The goal was for both groups to restrict calories by 30% and, after one year, both groups had lost an average of 8% of their original body weight.
"Unlike several other long-term studies, which have reported greater weight loss with low GL diets at six months but no differences by 12 months, our data show no significant short-term or long-term differences," says Sai Das, Ph.D., scientist at the USDA HNRCA and study author. "However, we did detect a greater tendency for weight and body-fat regain among the low-glycemic-load group."
This latest study by Tufts researchers, along with the findings from the Australian study show that potatoes can absolutely be part of a healthful diet. This is in opposition to how potatoes are frequently singled out by fad diets as being a food to avoid because of their relatively high glycemic load.
Marion Franz, M.S., RD, LD, CDE and former Director of Nutrition and Health Professional Education at the International Diabetes Center for more than 20 years finds the results of these studies particularly justifying. Says Franz, "This research clearly shows that the basic nutrition tenets we, as dietitians, have been recommending for years still hold true. Forget the fad diets, particularly those based on the glycemic index or glycemic load, and instead, focus on a food intake lower in calories and rich in a variety of fruits and vegetables, whole grains, low-fat/non-fat dairy products, and lean sources of protein."
The United States Potato Board was established in 1971 by a group of potato growers to promote the benefits of eating potatoes. Recognized as an innovator in the produce marketing industry, the USPB was one of the first commodity groups to develop and use a nutrition label that was approved by the FDA. Based in Denver, CO, the USPB represents more than 4,000 potato growers and handlers across the country. For more information about the USPB and its programs, visit http://www.healthypotato.com.
Contact:
Amy Flynn
Fleishman-Hillard, Inc.
916-492-5345
Contact:
Linda McCashion
United States Potato Board
303-873-2326
###