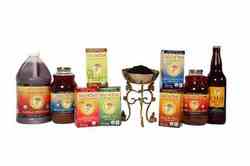 The website is one more tool for us to help build awareness as a company, so that global trade can become more equitable, transparent, and just
San Luis Obipso, CA (PRWEB) January 14, 2008
SLO Chai released their new online store this month, creating a one-stop-shop for fair trade and organic chai tea. Through a colorful and image-rich presentation, the website features over 20 products including the authentic Vanilla Spice Latte, Honeybush Chai, and the one-and-only Chai Cream Ale.
Masala chai, or spiced tea, has been enjoyed in India for centuries. SLO Chai's new website makes this Himalayan tradition - as well as some interesting new twists on it - accessible to customers across the United States. The site is formatted so visitors can easily navigate to the chai varieties they seek. For those interested in a ready-to-drink option, the Vanilla Spice Latte is handcrafted from all natural, raw ingredients and a ten-spice blend that creates sweet aromas and robust flavors. For the do-it-yourself chai lover, a Brew-Your-Own-Chai Mix is available with instructions for making this spicy tea at home. For the chai adventurer, cardamom, cinnamon, ginger, pepper and other spices are a creative and warming complement to organic yerba mate and honeybush teas as well as uniquely fragrant beer and organic fair trade chocolate.
The website also includes extensive information about where the products are sourced so customers will know that farmers are getting paid fairly for the tea. According to the Fair Trade Labeling Organization, sales of fair trade tea grew 49% worldwide in 2006 from the previous year. More and more people are concerned about their impact on the communities that produce the goods they purchase. SLO Chai is proud to be one of the first chai manufacturers in the United States to be certified both fair trade and organic, and sees this website as an opportunity to keep people informed. "The website is one more tool for us to help build awareness as a company, so that global trade can become more equitable, transparent, and just," says Joel Pace, Co-Founder and President of SLO Chai.
For those who seek the latest health and wellness attributes of tea and spice, the site is also rich with information on research in this area. Co-Founder and registered nurse Tamra Winfield-Pace will share recent findings on the health benefits of chai in a special section.
Since 2004, SLO Chai has built a solid reputation for selling outstanding tea products at farmers' markets, grocery stores, and cafes throughout the Central Coast of California. From the beginning, SLO Chai has paid close attention to its social and ecological impacts as a company. For more information and to peruse their fair trade and organic chai tea offerings, visit http://www.slochai.com .
###