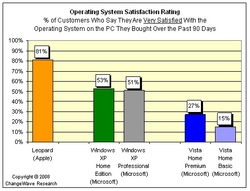 It comes as no surprise that Apple sets the standard in terms of customer satisfaction
Rockville, MD (PRWEB) January 17, 2008
ChangeWave Research's latest consumer spending survey shows explosive Apple (AAPL) Mac sales, driven in part by high customer satisfaction with the company's new Leopard operating system.
The survey of 4,604 ChangeWave Alliance members, conducted January 2-8, revealed 17% of respondents bought an Apple laptop over the past 90 days. That's 3 percentage points higher than the previous measure in November 2007.
Apple desktop purchases came in at 16% over this time period - up 6 percentage points.
The results represent an astonishing leap for Apple among consumer PC purchasers over the holidays.
Looking at the next 90 days, a third of planned PC buyers (33%; up 4-pts) say they'll purchase an Apple laptop - a new all-time high for the electronics giant. At the same time, 29% say they'll buy an Apple desktop - matching their November all-time high.
Apple also maintains its big lead in customer satisfaction compared to other major PC manufacturers. Nearly four-in-five Apple buyers (79%) over the past 90 days say they are Very Satisfied with their purchase (another 18% say they are Somewhat Satisfied).
To put this in context, Apple's two biggest competitors - Dell and Hewlett-Packard - had 59% and 58% satisfaction ratings respectively.
"It comes as no surprise that Apple sets the standard in terms of customer satisfaction," said Tobin Smith, founder of ChangeWave Research and editor of ChangeWave Investing. "There's a new twist on why they're outperforming the rest of the industry - it's the amazing customer satisfaction rating on Apple's new Leopard OS."
With the new Leopard Operating System now on the market, for the first time ChangeWave was able to compare its customer satisfaction rating against the competition.
Better than four-in-five Apple buyers (81%) said they were Very Satisfied with Leopard - an exceptionally high rating for a new operating system. This compares to 53% and 51% for Windows XP, and just 27% and 15% respectively for the Microsoft Vista systems.
Leopard's high customer satisfaction not only dwarfs its competitors, but it's having a direct impact on consumer intentions to purchase an Apple computer.
More than one-in-four consumers (26%) say the Leopard OS is making them more likely to buy an Apple computer in the future - another clear indication of how Leopard is helping drive Mac sales.
(To download the chart along with the complete ChangeWave Apple Post-Holiday PC wrap-up, go to Changewave.com.)
In other findings, the survey showed slower than expected Dell (DELL) laptop sales over the past 90 days (22%; down 5-pts), although desktops sales were down just slightly (33%; down 1-pt). On a brighter note, planned purchases of Dell laptops over the next 90 days (30%; up 2-pts) look set to improve and Dell desktops (36%; up 5-pts) show real strength going forward.
For Hewlett-Packard (HPQ), this year's consumer holiday season contained little to be excited about, with 28% of respondents who bought a computer saying they purchased an H-P laptop (down 1-pt), and 26% a desktop (down 2-pts).
Planned purchasing of H-P computers over the next 90 days looks similarly uneventful, with 21% of respondents saying they'll buy an H-P laptop (unchanged from previously) and 23% a desktop (down 1-pt).
Importantly, in perhaps the biggest warning sign of the survey, overall consumer PC buying looks weak for the next 90 days - with just 13% of respondents saying they'll buy a computer. That's 3-pts less than last January and the weakest reading ChangeWave has had in more than a year.
The ChangeWave Alliance is a network of over 13,000 highly qualified business, technology, and medical professionals in leading companies of select industries -- credentialed experts who spend their everyday lives working on the frontline of technological change. ChangeWave surveys its Alliance members on a range of business and investment research and intelligence topics, collects feedback from them electronically, and converts the information into proprietary quantitative and qualitative reports.
For a copy of the entire ChangeWave Research consumer spending survey, please contact Darlene March, March Media Relations, (714) 514-3736.
###