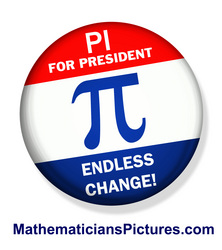 Those are the lesser equations
Beverly Hills, CA (PRWEB) January 29, 2008
PI, the popular mathematical symbol, today announced that it is a candidate for the presidency. Pi's campaign theme "Endless Change", is based on its infinite and endless series of digits. "We expect an uphill battle. e and PHI have also announced"
The PImaries, a public service sponsored by MathematiciansPictures.com, are open to voting by RePIblicans, DemoPI's, and uncommitted voters.
PImary voters may also cast votes for conventional candidates.
"I'll be campaigning actively until Super Tuesday" PI said in an exclusive interview.
"Then, I go into training for my annual Giant Pi Drop from cyberspace on PI Day, March 14th, at 1:59 pm."
Opponents claim that PI, as the ratio between a perfect Circle and its diameter, is entirely unsuited for the Oval Office.
PI supporters retort: "That just means PI's presidency won't be limited - and that PI will spend more time on Capitol Hill under the Rotunda, building bridges and shmoozing".
There is also questioning of PI's claim of 'endless change".
A spokesman for an opposing candidate, who did not wish to have his name used in connection with negative remarks, put it this way:
"What PI refers to as 'endless change' is its infinite series of digits which never repeat, have no predictable pattern, and never resolve ... Simply put, PI is history's biggest flip-flopper".
In a prepared campaign statement, PI points out it that it is popular in both the West and the East, has Biblical roots, having appeared as an approximation in connection with Solomon's construction of the Temple at Jerusalem, and even some early history in Babylonia.
"I don't know if I'm qualified to call myself an evangelical, but I feel I have broad universal appeal, and promise to be a numerator, not a divisor", Pi says on the stump.
Opponents point out that in many equations PI does, in fact, have a history as a divisor.
"Those are the lesser equations", PI spokespeople respond, "and PI has no control over who chooses to put it into an equation - it's just more negative campaigning".
"Look at my record I'm at the center of everything from financial calculations, to rocket science. I even-handedly underlie calculations used both to establish and refute global warming. And you might say I made the Internet possible".
Opponents say that PI's claims, while accurate, fail to mention that PI is also behind critical calculations underlying financial derivatives, and their negative impact on credit markets.
"That's a constitutional issue" say PI spokespeople, "we aren't about to limit who can and cannot utilize PI".
PI claims to have known Benjamin Franklin and Thomas Jefferson, and to have been instrumental in the construction of Washington DC.
Overhanging the PI candidacy, there are also questions being raised about PI's ne'er do-well younger sibling, Casual PI, with a penchant for off-handed remarks. "Family is off limits" say PI spokespeople, quickly changing the topic, but unable to keep people from reading Casual Pi's notorious history, which is public and online.
There is also some mystery hanging over PI's love life. PI will be taking off Valentines Day, and sending Valentines Day Cards, but no-one knows which math symbol is the object of PI's affection. Campaign organizers are silent.
Going into Super Tuesday, one thing is certain: nothing is certain.
Pi-for-President campaign gear, shirts, posters, and free PI buttons (while supplies last) are available from the PI Store in the Pi Department at MathematiciansPictures.com
Live interviews with the Pi, Pi spokespeople, and PImary organizers are available for print and broadcast journalists.
###