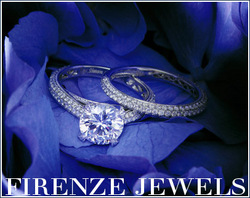 This has to be our most extravagant bridal jewelry collection to date
New York (PRWEB) February 11, 2008
Firenze Jewels heads into yet another unforgettable wedding season by proudly announcing its extensive 2008 bridal collection, which can be readily viewed on the new bridal section of the website. The dazzling new bridal section includes engagement rings, wedding bands and antique-style diamond jewelry by today's top bridal jewelry designers including Simon G., Natalie K., Christopher Designs, Le Vian and Charles Krypell.
Firenze Jewels will be showcasing the brand new antique-style bridal jewelry collection designed by Natalie K. The 2008 bridal collection will include antique style engagement rings and wedding bands. For a more contemporary twist on bridal jewelry, Firenze Jewels will also be featuring the latest designs by Simon G. Many pieces from Simon G. are comprised of fancy yellow and pink diamonds. "This has to be our most extravagant bridal jewelry collection to date," says Gabrielle Guzman, Director of e-Commerce at Firenze Jewels.
Whether it's an engagement ring, wedding band or jaw-dropping necklace for the bride's special day, Firenze Jewels' vast bridal collection is sure to satisfy even the most discerning bride.
For readers who would like to learn more about Firenze Jewels' vast collection of bridal jewelry, or to view their collection of engagement rings and settings, please visit http://www.firenzejewels.com
About Firenze Jewels
Firenze features the world's top designers, an extensive collection of G.I.A. certified diamonds and the most elegant and sophisticated jewelry. Family owned and operated jewelers since 1937, Firenze Jewels is located in the heart of the Manhattan Diamond District. Its staff, which includes talented designers as well as a graduate gemologist from the renowned GIA (Gemological Institute of America), collectively brings decades of knowledge and expertise to ensure every shopping experience is a positive one.
Editor's Note: to speak with representatives from Firenze Jewels, please contact Gabrielle Guzman at (800) 790-6980 or info @ firenzejewels.com.
###