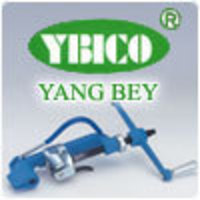 Providing diverse products has been regarded as a key element of our business success. Especially, our one-stop shopping service efficiently fulfills customer needs, reduces cost and saves time
(PRWEB) February 25, 2008
Yang Bay Industrial Co., Ltd. (YBICO) announces an intention to attend Interpack in Dusseldorf, Germany from 24 to 30 April 2008. All high quality products of YBICO will be well presented during the exhibition. In particular, the new product releases like Line Marker and Upgraded Bubble Wrap Dispenser will be be the highlight of the show.
An expert in OEM manual packaging tools manufacturing for 29 years, YBICO insists on offering handy and all-purpose products. Its brand name has been recognized worldwide, by well-known companies such as, 3M, The Sekisui Chemical Group, Band-It-Index, Inc; all are long-standing partners of YBICO. YBICO has cooperated with 500 distributors over the world, and its clients come from North America, South America, Western Europe and Eastern Europe.
Outstanding Quality Control:
With annual sales of $10 million (USD), YBICO aims to supply the biggest variety of manual tools for customers. Under ISO9001:2000 management system, a wide-range of YBICO products are perfect to applied film, tape, strapping, paper, label, wire ties, seal, and cable ties. In order to satisfy an increase in market demand, YBICO established an extra factory for strapping tool manufacturing in 2006, and the production capacity of strapping dispenser was expanded again last year.
"Providing diverse products has been regarded as a key element of our business success. Especially, our one-stop shopping service efficiently fulfills customer needs, reduces cost and saves time," YBICO's Sales Manager Judy Yu emphasized.
In addition to their solid relationships with reliable upstream suppliers, YBICO guarantees strict quality control; all material and components are arranged to pass strict testing process. Its tools worth mentioning that YBICO tools are carried with USD one million product liability insurance to end user security.
In an effort to maximize knowledge and improve operations management, YBICO also keeps a good connection with the Taiwan business consulting organization -- China Productivity Center (CPC). It believes regular employee training is oriented towards increasing the quality of products and service.
Product Highlight:
YBICO bubble wrap dispenser has been well received in the market since last year. It's equipped with excellent heat-treated blade, it makes accurate cuts on a variety of packing materials, including packing foam, foil, bubble wrap, packing paper and corrugated wrap. YBICO provides a customized design service starting this year. All requirements such as table top model, floor standing model and special specification can be satisfied.
As another recommended product, Fiberglass Tape Dispenser, makes repairing work easier and simpler. With great ergonomic rubber handle design, its featured tape tension adjustment is functioning fine with flip-down roller device, which makes precise application to inside corner.
Having a drop forged body and featuring a built-in cutter, YBICO Banding tool also shows the great value in 3/8" ~ 3/4" Stainless Steel Strapping. Even irregular and non-compressible packages could be done perfectly. More useful products include Strapping Tool, Film Dispenser, Label Dispenser, Strapping Tensioner, Strapping Sealer, Strapping Cutter, Clamping Tool and Wire Binder.
Trade Show Participation:
Following the rapid change of market trends, YBICO set the goal of attending international packing trade shows to serve more customers. Meet YBICO at APEX 2008 Cairo (2-5 March), Propack Vietnam (5th-8th March), Interpack Dusseldorf (24th -30th April) and National Hardware Show, Las Vegas (6th -8th May).
Please visit following website for further information: http://www.allproducts.com/tool/yangbey or email to ybico @ ms16.hinet.net.
###