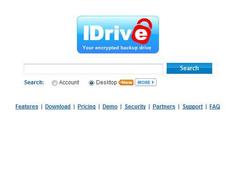 Desktop Search segment is currently dominated by Microsoft and Google. IDrive plans to be a player in the segment by launching a web based desktop search tool; it complements the backup data search and is perfectly positioned to offer online and offline access to user's PC data
Woodland Hills, CA (PRWEB) February 2, 2008
IDrive (http://www.idrive.com), a leading online backup service, has added web-based Desktop Search option to its Online Backup features.
Desktop Search has traditionally been an offline application available on the user's PCs. IDrive now enables this over the Web with access from anywhere in addition to fast backup data access.
Desktop Search has traditionally been an offline application available on the user's PCs. IDrive has had this fast search option to locate user's backup data over the web. In addition, it now offers fast desktop search from anywhere.
"IDrive (http://www.idrive.com) is the first web-based service to offer a unique combination of fast searches for user data that resides on their desktops as well as their backups. This means critical data is accessible even if the desktop is offline, something that remote access services can't do, and provide real time access to data if it is online," said Raghu Kulkarni, President and CEO of Pro Softnet Corp.
"Desktop Search segment is currently dominated by Microsoft and Google. IDrive plans to be a player in the segment by launching a web based desktop search tool; it complements the backup data search and is perfectly positioned to offer online and offline access to user's PC data," said Shweta Sachdeva, COO of Pro Softnet Corp.
Privacy is an important concern when desktop data is made available over the web. Backup data is encrypted using 256 bit AES encryption with an optional user defined key known only to the user. In addition, data is transmitted using 128 bit SSL. Web based desktop search is optional and will have to be turned on by user providing full controls on how the data is accessed.
The desktop search portion of the service is still in beta and currently only supports Microsoft Vista OS. The company plans to add other windows flavors to support desktop search shortly.
Details on the service can be found at http://www.idrive.com/web-based-search.htm.
"The web-based desktop search option is quite advanced; it searches based on file and folder names, and contents stored within the files. We are working on enhancements to do searches on EMail data such as Outlook," said Suresh K, Team Lead for the IDrive Desktop Search project.
IDrive is a leading online backup service for consumers and small businesses. While there are now some major players in this segment including Symantec, EMC and AOL, among others, IDrive is trying to differentiate its service from others with its performance and breadth of features.
About IDrive
IDrive (http://www.idrive.com) is a leading consumer and small business online backup offering. This offering comes absolutely free of cost to consumers for storage of up to 2 GB and the IDrive unlimited plan allows consumers to backup unlimited amount of data for a modest $4.95 per month.
Other services of Pro Softnet Corp include IBackup (http://www.ibackup.com), a leading SMB online storage and backup service provider.
# # #