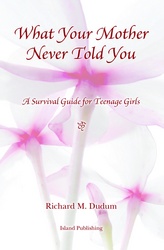 Nothing is left unsaid in What Your Mother Never Told You.
San Francisco, CA (PRWEB) February 4, 2008
Less than three months on the market, "What Your Mother Never Told You - A Survival Guide For Teenage Girls' climbed to #1 in Amazon's Parenting-Teenagers category this past weekend. Written by Richard Dudum, the book also ranked #1 on Amazon's 'Hot New Releases in Books.' Amazon's best selling new and future releases in Teenagers is updated hourly.
There's no-nonsense straight talk in 'What Your Mother Never Told You,' a small, unassuming paperback published late last year. This self-help book is loaded with good sense, parsed out in short, easily digestible chapters, in graphic, occasionally crude language that may offend grown-ups but immediately translates with teens.
Richard Dudum, 48, is someone who communicates uncommonly well with teens. The father of four children -- three of them teenagers, two of them girls -- also believes that "most of the negative messages coming from the media, the Internet and popular culture are directed primarily at girls," especially in music videos and reality television.The book addresses a wide variety of problems that teen girls face throughout their adolescent years, and does so in a straightforward and direct manner without sugarcoating the issues
"Nothing is left unsaid in What Your Mother Never Told You." Richard Dudum does not shy away from touchy subjects. He delves into deep issues and addresses them bluntly, including teen sensitive current issues involving social networking Web sites like Facebook, email and the Internet.
With this book, "Richard Dudum says he hopes to help girls anticipate and avoid people, places and situations that could put them in harm's way" by emphasizing two themes: the importance of self-respect, and having effective communication skills.
"I want the girls to speak up, I want them to be assertive. I want them to know it's OK to say no."
"Richard Dudum recommends that parents not give the book directly to their daughters, which could mean rejection out of hand. But if you leave it in their bedroom, they will read it."
Richard Dudum is a San Francisco lawyer, musician, Realtor, summer-camp director, community leader and cancer survivor. He's been married for 25 years. '''What Your Mother Never Told You' offers clear-sighted perspective and no-nonsense self-help advice from a father with the ability to convey tough love in a kind and supportive manner."
Richard Dudum is available for interviews immediately.
Island Publishing
12 Gough Street, Third Floor
San Francisco, CA 94103
http://www.whatyourmothernevertoldyou.net
Contact: Richard Dudum
whatyourmothernevertoldyou @ yahoo.com
Phone: (415) 626-5568
Available at: http://www.amazon.com/What-Your-Mother-Never-Told/dp/1419678698/ref=pd_bbs_sr_1?ie=UTF8&s=books&qid=1196128393&sr=8-1
###