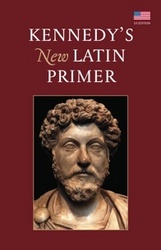 London, England (PRWEB) February 27, 2008
Tiger of the Stripe, the London-based book publisher, is pleased to announce the launch of its new imprint, Tiger Xenophon on 28 February 2008. All the publisher's titles will be available from Amazon US and Amazon UK.
Tiger Xenophon will be publishing a large range of books on dead and living languages, including grammars, dictionaries and texts. Launch titles include A Greek Grammar by William Goodwin, Grammar of the Gothic Language by Joseph Wright, Grammaire Elementaire de l'Ancien Francais by Joseph Anglade and Charles H. Grandgent's From Latin to Italian.
The highlight of the new series will be the first new edition of Kennedy's Latin Primer in two generations. The book, which has been the foremost Latin reference grammar in British schools and universities for many decades, has been thoroughly revised and updated, with modern typography and enhanced legibility. Kennedy's New Latin Primer is available in both UK and US editions.
Tiger Xenophon welcomes proposals for new language titles from experts in the field.
###