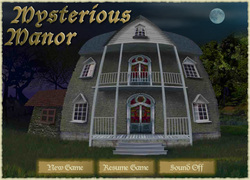 Hidden object games have been popular for some time now, but they are a challenge to do purely in a Web browser
Englewood, CO (PRWEB) February 6, 2008
Mysterious Manor is the latest new game at GameScene.com, the free online games Web site. In the game, players must search the rooms of an old house to find objects from a list.
The game has eight interior rooms and two outside areas. Each area has about 50 possible items, of which the player needs to find 10. This makes the game re-playable, as different objects will be asked for with each new game.
"Hidden object games have been popular for some time now, but they are a challenge to do purely in a Web browser," said Gary Rosenzweig, Chief Engineer for CleverMedia, the publisher of GameScene.com. "A typical game would take a long time to download, even with a broadband connection."
Mysterious Manor solves this problem by only downloading the portion of the game that the player needs to see at that moment. So the player never waits very long.
Creating the artwork, which includes more than 500 objects, 10 areas and an overview of the house was a challenge for CleverMedia artist Eve Park.
"Each object had to be cleverly hidden in the room, and among other objects," said Park. "Some are pretty easy to find, but others are tricky. Some of the objects just blend right in and you need a sharp eye to find them."
Another big difference between Mysterious Manor and other hidden object games is that it is free. Like all the games at GameScene.com, players can just go to the Web site and play the full version of the game. They do not even need to sign up or join the site to play.
GameScene, the largest site of original games by one company, dates back to late 1995. CleverMedia has more than 150 Web-based games at GameScene.com and other sites.
You can play Mysterious Manor at http://gamescene.com/Mysterious_Manor.html.
###