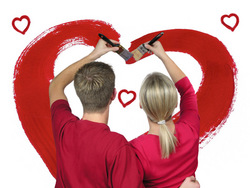 Drinking too much alcohol dehydrates the body and slows down bladder emptying, thus making it difficult to flush the urinary system of bacteria
Eddison, NJ (PRWEB) February 7, 2008
While passion may peak during Valentine's Day, women who are prone to painful urinary tract infections (UTIs) may dread this "holiday of love," since sexual relations can trigger an infection. While UTIs are not sexually transmitted, increased friction in the feminine area can push more bacteria into the urethra than would normally be there.
According to Larrian Gillespie MD, author of You Don't Have to Live With Cystitis, it is important to understand the aspects of intercourse that lead to urinary tract infections. Here, Gillespie lists some ways to avoid "burning love" this Valentine's Day:

If you suffer from frequent UTIs, talk to your doctor about an alternative method to your present form of birth control. For example, diaphragms and spermicides are not the best option for women more prone to UTIs.
While drinking wine or champagne may set the mood for a romantic Valentine's Day evening, it also sets up an environment for a urinary infection. "Drinking too much alcohol dehydrates the body and slows down bladder emptying, thus making it difficult to flush the urinary system of bacteria," says Gillespie.
If you are prone to UTIs, consider taking Cystex, available over the counter, as a preventative measure because it can help keep bacteria from adhering to the linings of the urethra and bladder. Its key ingredient is methenamine, an antibacterial agent that can help prevent an infection's progression.
Stick with positions that create the least amount of friction near the opening of the urethra. Gillespie suggests that women refrain from engaging in male dominant sexual positions as they injure the female's delicate urethral tissue, leading to abnormal urinary bacterial overgrowth.
Consider using a small amount of lubricant before sex. "These moisturizers contain elements that mimic natural vaginal lubrication and can help restore the sensitive vaginal acid/base balance that is so necessary to prevent infection," says Gillespie.
For more information on the prevention and management of urinary tract infections, visit http://www.cystex.com.
# # #