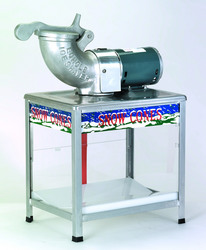 Chicago, IL (PRWEB) February 7, 2008
C. Cretors and Company, the leading designer and manufacturer of food processing and concession equipment for over 120 years, offers the Echols line of high speed ice shavers. Ideal for the amusement and entertainment industries, these innovative machines are an attractive and highly efficient primary element in the making of sno-cones.
Easy to useconcession equipment for amusement parks
Cretors' Echols line of sno-cone machines, which fit securely on display cases or a counter stand, feature heavy duty cast aluminum construction for years of reliable use. The sno-cone machines can shave up to 500 lbs. of ice per hours, and for operator convenience, the shavers can use ice in sizes ranging from small cubes to 4.5" chunks. The Echols line of sno-cone machines is available with either gas or battery power.
Attractive, compact sno-cone concession equipment
The leak-proof display case, with Plexiglas front and sides, provides amusement park customers and employees with a clear view of the ice, while a slide-down door allows easy cabinet access. Optional internal fluorescent lighting contributes to attractive merchandising of sno-cones.
About C. Cretors and Company
Established in 1885, C. Cretors and Company is the leading designer and manufacturer of food processing and concession equipment providing a complete range of innovative foodservice solutions to companies around the world. A renowned industry innovator, in 1885 Cretors introduced the first patented steam driven popcorn machine that popped corn in oil. Since 1967, Cretors' Food Processing Division has offered a patented continuous production line featuring a hot air fluidized bed oven for high-volume popcorn production.
Over the company's long and storied history, its Foodservice Division offerings have expanded to include machines that produce and/or dispense cotton candy, nachos, caramel corn, and hot dogs, topping and dispensing equipment as well as warming and display cabinets. Today, Cretors continues to reinvest in research and development to ensure constant improvements in everything from equipment manufacture to customer responsiveness to distributor network communications.
For more information about Cretors' services and products, please visit http://www.cretors.com.
###