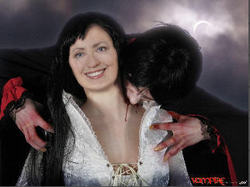 Liverpool, UK (PRWEB) February 7, 2008
Genemation Ltd today announced the launch of the Vampire application built on Facebook Platform, which enables companies and developers to build applications for the Facebook website. Vampire is a fun application which empowers Facebook users to select photographs of faces from their Facebook photo albums and transform them into Vampires. The Vampire application automatically detects the face in the selected photograph and applies the chosen transformation.
A transformed photograph can be 'bitten' to create a Vampire Minion which is added to the user's Minion Gallery and the friend will receive an invitation to install the Vampire application, so they in turn can 'bite' their friends. The selected photograph can have numerous Vampire transformations applied to it. The Vampire application is exclusively available to Facebook users.
John Bickley, Genemation CEO stated, "Vampire has been created using the FaceTec™ facial customisation platform, which enables the large scale automated personalisation of faces in digital photographs. Users can easily personalise or customise facial images, which can be automatically embedded in digital advertising and brand related communication and content, then virally distributed throughout the Web 2.0, mobile, video game & online worlds.
Genemation is very excited about the potential of its FaceTec™ facial customisation platform and so decided to build a specific 'proof of concept' fun application on the Facebook Platform, The Facebook Platform is a new way for companies and developers to integrate with the Facebook website and gain access to its 63 million* users".
Vampire:
The application enables Facebook users to select photographs from any of their own Facebook photo albums, or those of their friends that they are authorised to and turn them into a range of Vampires:
1. Users select a photo (one that features a frontal view of the face), then
2. Select a Vampire transformation to apply to the selected image,
3. Once the transformation has been applied the user has a number of choices:
a. Choose the 'Bite' option which results in the transformed image being saved to your Vampire Minion Gallery and a Minion Point being scored,
i. If you 'Bite' an image chosen from a friend's album, as well as the 'bitten' image being saved to your Minion Gallery, the friend will receive an invitation to install the 'You! Vampire' application so they in turn can 'Bite' their friends.
ii. If a friend has already been 'bitten' you can still transform the friend's images and store them in your Minion's Gallery. The friend will receive an email inviting them to view the gallery.
b. Try a different vampire transformation using the original selected photograph, or
c. Select a new photograph from one of your Facebook Photo Albums and choose another transformation.
4. 'Bite' more friends to become more powerful and earn the right to choose new Vampire transformations.
Facebook is a social utility that offers an efficient way for people to stay connected with their friends and the people around them. Facebook users communicate and share information through the social graph, the network of connections and relationships between people. With more than 63 million active users, Facebook is the sixth most trafficked website in the United States.
Facebook launched Facebook Platform, a development platform that enables companies and engineers to integrate with Facebook and gain access to millions of users. More than 50 percent of Facebook users return to the site each day, providing unparalleled distribution potential for applications and the opportunity to build a business that is highly relevant to people's lives.
About FaceTec™
The FaceTec platform was developed by Genemation Ltd, which was formed in 2002 and has commercialised patented computer vision and image processing technology from The University of Manchester's Imaging Science and Biomedical Engineering division (ISBE). The Company has developed applications, solutions and software tools for the video games, mobile phone, Web 2.0, social networking, post production and other digital content sectors. Genemation Ltd is a privately owned Company; for further information about the FaceTec™ facial customisation platform please visit
Facebook® is a registered trademark of Facebook Inc.
FaceTec™ is a trademark of Genemation Ltd. All other brand names, product names, service marks or trademarks belong to their respective holders.
###