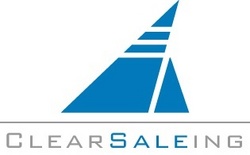 This flawed industry practice of crediting all value to the last ad clicked prior to the sale leads to suboptimal online advertising investment decisions
Columbus, OH (PRWEB) February 11, 2008
ClearSaleing Inc., a search engine marketing technology company, has announced they will be hosting the second-part of their three-part Online Advertising Webinar series titled Optimize Your Online Ad Investment: The Metric, The Measure and The Method.
ClearSaleing Co-Founder Adam Goldberg will host the next webinar in the series, The Measure: Are You Properly Crediting All of the Ads in Your Customer's Purchase Path. Goldberg, while in sales management at Google, recognized a critical flaw in how search engine marketers attributed credit to their online advertising. Goldberg found that most search engine marketers were improperly assessing the true effectiveness of the entire series of ads leading to a sale by only crediting the last ad, which led to completely wrong online advertising investments.
"This flawed industry practice of crediting all value to the last ad clicked prior to the sale leads to suboptimal online advertising investment decisions," said Goldberg. "To make optimal investment allocation decisions across your online advertising portfolio requires a more sophisticated and comprehensive attribution management approach."
The webinar will cover an array of topics further explaining the true importance of properly attributing credit to all of the sales in a customer's purchase path. The webinar will show several examples as to how crucial knowing your customer's purchase path is, in order to maximize and optimize your online advertising budget.
ClearSaleing will host this webinar on two separate dates, February 21 and February 28, at 1:30pm EST. To register for The Measure: Are You Properly Crediting All of the Ads in Your Customer's Purchase Path, please follow this registration link: http://www.clearsaleing.com/MMM.
Additionally, the remaining webinar in the three-part series is:
The Method: Do You Have a Continuous Improvement Process for Your Online Ad Investments?
When: March 20 1:30 pm EST
March 27, 1:30 pm EST
Register at http://www.clearsaleing.com/MMM
About ClearSaleing
ClearSaleing is a technology-powered, advertising analytics company and online agency. ClearSaleing provides Internet retailers and direct marketers the only accurate way to measure, compare and optimize ROI across their online advertising portfolio. Launched in 2006 and located in Columbus, Ohio, ClearSaleing is rapidly becoming the choice of online advertisers who need transparency, flexibility and accountability in the management of their online advertising campaigns.
###