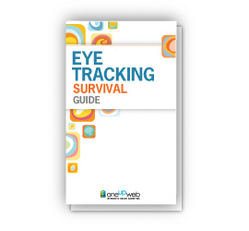 Eye Tracking is a tool that allows you to look at your online presence through the eyes of your preferred audience
Traverse City, MI (Vocus) February 12, 2008
With eye tracking and heat mapping, one picture is literally worth a thousand words. And Oneupweb is offering marketers those words, and a glimpse of the big picture in the form of their new Eye Tracking Survival Guide.
"Eye Tracking is a tool that allows you to look at your online presence through the eyes of your preferred audience," says Oneupweb CEO Lisa Wehr. "By using Eye Tracking, a marketer can deliver a more effective message that is seen and acted upon by more people."
Wehr points out that, until recently, subjective survey data was as close as anyone got to determining what media messages people were and were not seeing, and why.
"Eye Tracking is a relatively exact science. It can analyze and help optimize each critical element on a web page, landing page, ad, email or video to identify what variables affect what is and is not being seen," explains Wehr. "Eye Tracking can actually improve the usability of all online communications and facilitate increased clicking where you want your visitor to click."
And for companies that want to do just that, the Eye Tracking Survival Guide is a great place to start. It defines the terminology marketers will hear about and need to know. It also provides information and findings from some of the latest Eye Tracking research.
To download a free copy of the Eye Tracking Survival Guide, visit OneUpWeb.com. For more information on Oneupweb's Eye Tracking services, email info@oneupweb.com or call toll free 877-568-7477.
About Oneupweb:
Oneupweb has been an innovator in online marketing for more than a decade, creating integrated online marketing plans that include natural search engine optimization, paid search marketing, podcast production, social media marketing, usability audits with eye tracking and media placement. An award-winning firm, Oneupweb was named a 2006 Michigan Top 50 Company to Watch and is the only three-time winner of the prestigious ClickZ Best Search Engine Marketing Vendor Award. CEO, Lisa Wehr, an Ernst & Young Entrepreneur of the Year, has been named to BtoB Magazine's Who's Who List four years and is recognized as a Leader & Innovator by Lawrence Technological University. The company publishes a blog entitled StraightUpSearch.com and their corporate podcast series, One for the Money, was honored with a 2007 Silver Davey Award. Oneupweb is a privately held company located in Traverse City, Michigan. For more information on Oneupweb, please call 231.922.9977 or visit OneUpWeb.com.
###