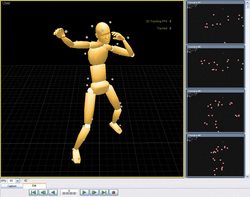 Corvallis, OR (Vocus) February 12, 2008
Attendees of last year's Game Developers Conference (GDC) saw a preview of NaturalPoint's Arena full body motion capture software, and FLEX:V100 cameras. Now, one year later Arena's impressive features and ease of use are garnering acclaim from industry experts. Introduced as 'the inexpensive mocap that really works', NaturalPoint's entry into the motion capture industry has been a resounding success.
At GDC, NaturalPoint will demonstrate Arena's expanded functionality, providing real-time 24 camera support and two actor capability.
Arena is now used by some of the world's most prominent game developers and entertainment studios to generate motion capture data. Experienced industry veterans and first time users are discovering that mocap doesn't need to start at $50K. OptiTrack motion capture packages start at just $5,000, a price point that expands the market for high quality motion capture like never before.
Arena supports popular export formats like BVH and C3D. Additionally a real-time plug-in for AutoDesk's MotionBuilder provides for character retargeting and live previews. Arena can be operated by a single person, and powered by one computer; conducting mocap sessions on your own has never been easier. Setup is not only quick and easy, but extremely portable, with the small size and flexibility of the V100 camera.
Please visit booth #6433 at this year's Game Developers Conference in San Francisco, California, February 19-22 for a live demonstration of Arena, and NaturalPoint's headtracking PC gaming device, TrackIR.
For more information about NaturalPoint products, please visit: http://www.NaturalPoint.com.
About NaturalPoint
Based in Corvallis, Oregon, NaturalPoint? is the creator and manufacturer of the TrackIR?, OptiTrack?, and SmartNAV? product lines. NaturalPoint specializes in providing innovative control solutions through optical tracking technology, and has developed tracking systems for computers, video games, military simulators, and unique display systems.
###