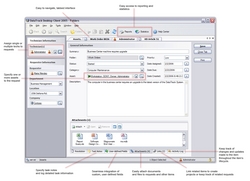 San Luis Obispo, CA (PRWEB) February 12, 2008
Magnoware Inc., a leader in helpdesk and support software solutions, is pleased to announce the immediate availability of a service update for its award-winning DataTrack System 2005 Second Edition.
A robust, web-enabled service management solution, the DataTrack System is designed for small to large-sized help desks, call centers, software development teams and IT departments. Existing customers are highly encouraged to upgrade to this release as it provides vast improvements to functionality, ease-of-use and reliability.
The DataTrack System 2005 sports over 50 new features and just as many visual and underlying improvements. Some functionality found in the DataTrack System is as follows:

Integrated Work Order and Service Management
Integrated Asset Management with Automatic Network Auditing
Integrated Knowledge Management
Automation and Escalation
File Attachments
User-definable Fields, Statuses, and Categories
Searching, Reporting, and Analyzing Made Easy
Improved Security
Integrated History and Audit Trail
Solutions:

Help Desks, Call Centers & Customer Support Desks
Technical Support & IT Help Desks,
Product & Software Defect Tracking
Those wishing to evaluate the Magnoware DataTrack System may download a fully-functional 14 day evaluation by navigating to http://www.magnoware.com .
With over 2,000 customers throughout the globe, Magnoware, Inc. is a world-wide leader in help desk and service support software solutions. Its flagship product, the DataTrack System, is presently in use by clients ranging in size from small, one-manned help desks, to corporate giants like Coca Cola, Toyota, Pfizer Pharmaceuticals, and Nautilus.
###