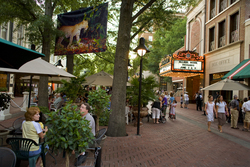 I feel lucky and proud to be a photographer after witnessing the brilliant presentations from my heroes as well as the rising stars in our profession. This is the
Charlottesville, VA (PRWEB) February 13, 2008
For the second consecutive year, LOOK3 Festival of the Photograph will convene for a 3-day program of exhibitions, outdoor projections, workshops, interviews with world-famous photographers and special events that will transform downtown Charlottesville, Virginia into a "living image." This year's festival will take place June 12-14, 2008.
LOOK3 2008 will feature three legendary photographers Mary Ellen Mark, Joel-Peter Witkin, and James Nachtwey.
Mary Ellen Mark's images of the world's diverse cultures are landmarks in the field of documentary photography, exhibited worldwide and published in over 16 books. "There's nothing much interesting to tell about me...what's interesting is the person I'm photographing, and that's what I try to show," explains Mark. Mary Ellen's numerous awards include the ICP Cornell Capa Award, three NEA grants, the Robert F. Kennedy Journalism Award and a Guggenheim Fellowship.
Joel-Peter Witkin began making photographs at the age of sixteen. While pursuing graduate work at the University of New Mexico he refined his work in relationship to the history of painting and sculpture. Witkin stages visceral, timeless compositions that, "confront our sense of normalcy and decency, while constantly examining the teachings handed down through Christianity." Among his awards are two Ford Foundation and four N.E.A grants, the ICP Award for Visual Arts and the Commander de L'Order des Artes et des Lettres.
James Nachtwey has been a freelance photographer with Time Magazine since 1984, and is one of the founding members of the photo agency, "VII". Nachtwey's work, especially wartime photography, has been exhibited internationally, and his numerous honors include the Robert Capa Gold Medal (five times), the World Press Photo Award (twice), and Magazine Photographer of the Year (seven times). Nachtwey says of his photography, "I am a witness and I want my testimony to be honest and uncensored."
On each evening of the Festival, National Public Radio's Alex Chadwick will host in-depth conversations and big screen projections with the three featured photographers in the historic Paramount Theater.
The LOOK3 Festival is an outgrowth of the "Hotshots" shows that National Geographic Photographer Michael "Nick" Nichols hosted in his backyard for the last twenty years. The intimate, informal spirit of those gatherings continues. LOOK3 Festival of the Photograph's name signifies "3 days of peace, love, and photography" featuring 3 renowned photographers. Jeff James, Manager of Photography at Rosetta Stone describes his experience at last year's festival, "I feel lucky and proud to be a photographer after witnessing the brilliant presentations from my heroes as well as the rising stars in our profession. This is the "Sundance" of photography."
Nichols is Co-Executive director of the LOOK3 Festival, along with Jessica Nagle of Charlottesville. The project's Board of Advisors includes Melissa Harris, Editor-in-Chief of Aperture Magazine; Kathy Ryan, Photo Editor of The New York Times Magazine; and David Griffin, Director of Photography at National Geographic Magazine.
For more information about LOOK3 Festival of the Photograph to purchase Festival passes or to register for workshops and events, visit the Festival Web site at http://www.FestivalofthePhotograph.org. A full schedule of events and artists will be announced in March.
###