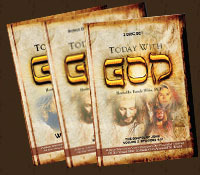 We're honored with this selection by our peers in the religious broadcasting industry
Dallas, TX (PRWEB) February 13, 2008
Today with God has been awarded the "2008 NRB Media Award for Best Television Teaching Program of the Year" by the National Religious Broadcasters (NRB). The award signifies that the program demonstrates creative use of a teaching format, adheres to sound doctrine and biblical integrity (as stated in the NRB Statement of Faith and Code of Ethics), and is uniquely innovative in the presentation of the Gospel.
"We're honored with this selection by our peers in the religious broadcasting industry," says Weiss. "God has truly blessed this series with wide acceptance around the world by television programmers and viewers."
Today with God is an episodic television series hosted by Dr. Randy Weiss of the renowned television program, Crosstalk. The series brings the Bible to life on the screen through dramatic re-enactments of the Gospel message as found in the biblical books of Matthew, John and Acts. Viewers are entertained and educated about the "big picture" of God's unmistakable plan for the world of today. Weiss serves as a "tour guide" for the series by offering historical perspectives and explanations without denominational bias. Film production from wonderful "Old World" locations is complemented by the commentary from Weiss filmed on location in Israel.
Today with God is broadcast across Europe, the United Kingdom, the Middle East, Asia, North Africa, Australia and the United States. Foreign language versions are in continual production. To date, episodes of the program have been developed in seven languages including Arabic, Russian, Spanish, Dutch, Hindi, Telegu, and Chinese. More than a dozen other languages are in process at this time.
Weiss is a Jewish believer in Jesus Christ who has been proclaiming His saving message since coming to know his Messiah in early 1973. His weekly program Crosstalk features teaching, humor, singing, and sharing from a Jewish man's perspective. Weiss teaches about the Jewish origins of the Christian faith and helps the Church be sensitized to Jewish issues. He is committed to biblical clarity, historical accuracy, and creative techniques for presenting the Gospel message to the mass media. Weiss holds multiple graduate and post-graduate degrees in religious studies and is respected as an expert in Judeo-Christian issues.
NRB is an international association of Christian communicators with over 1400 member organizations representing millions of viewers, listeners, and readers. The Association exists to represent the Christian broadcasters' right to communicate the Gospel of Jesus Christ to a lost and dying world. By honoring and celebrating outstanding achievements in media, NRB hopes to inspire others to glorify the Lord with their creative efforts to reach the lost for Christ.
The series is edited and distributed through the EICB studios located in Cedar Hill Texas, just south of the Dallas metroplex. For more information on Today with God, please visit Today with God website. For more information on Crosstalk, visit Crosstalk website
###