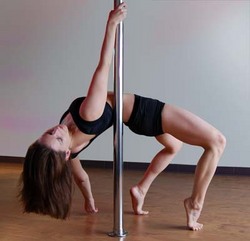 hold women back from living fully and proudly in their bodies.
Denver, CO (PRWEB) February 13, 2008
Dr. Lori Huett, behavioral health specialist and former professional NY ballet dancer, announces the grand opening of Denver's first professional-level pole dancing studio, TranZenDance®. Direct from Los Angeles, pole dancing incorporates and transcends all forms, like ballet, jazz, modern, and ballroom, while it allows for the creative self-expression that is lost with strict adherence to any one framework. And possibly of greatest benefit to participants, these pole dancing classes encourage a transcending of body and self image issues that Dr. Huett believes "hold women back from living fully and proudly in their bodies."
Most pole dancing workouts emphasize the physical fitness aspects of the dance. While this workout strengthens, lengthens, and tones, it also appears to be just what the doctor suggests for improving self confidence and body image. This aspect of pole dance lessons is taken seriously at TranZenDance® Studio, which has been described as a "modern yogic sanctuary with poles." There are no mirrors for self-critique, and the soft, dim lighting allows participants to see only their silhouettes. Classes are private without observation, which sets the scene for a safe experience of going within one's body and self for the entire duration of a two-hour class.
"In my 10+ years of counseling and rendering traditional psychotherapies, I had yet to observe changes of this magnitude that occur in the pole dance lessons that I teach," states owner and lead instructor Dr. Lori Huett. She believes, "this makes sense, given that so many levels of experience are addressed simultaneously: cellular, physiological, emotional, intellectual, somatic, and relational."
At TranZenDance® Studio, women of all shapes, ages, and fitness levels remark on how this exercise initiates a profound alteration in how they experience and view their bodies. "I have taught women in their forties who commonly report feeling better about their appearances than when they were in their early twenties. I know this modality is working when a woman leaves class walking taller and prouder, no longer apologizing for her larger, more womanly curves," reports Dr. Lori Huett.
In addition to professionally instructed pole dance lessons, TranZenDance® Studio provides group classes, personalized conditioning programs, a dancer's conditioning workout (integrative Pilates, yoga, agonist-antagonist flexibility training, and calisthenics), choreography workshops, teacher training, team performance workshops, and men's classes.
About Dr. Lori A. Huett and TranZenDance® Studio:
Dr. Lori Huett is a behavioral health specialist and former NY Joffrey Ballet apprentice. With over 22 years of professional dance training and credentials in clinical psychology and counseling, she brings an effective integration of existential philosophy, behavioral-based learning, the principles of anatomy, and a mastery of proper biomechanics to her group and private pole dancing classes. Her studio, TranZenDance®, provides individuals a space in which to self-actualize in mind, body, and spirit through the vehicle of pole dancing.
Pole dance lessons are in full swing at Denver's TranZenDance® Studio, which is located at 70 N. Broadway, Suite #275. For class information, please contact the studio at (303) 962-9515. Read more about TranZenDance® Studio on the web at tranzendancestudio.com and denverpoledancing.com.
###