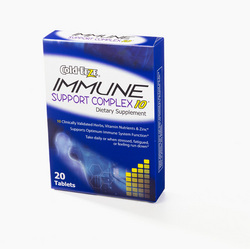 Whether you're watching your favorite movie or spending time with friends, make it a point to laugh a lot, and it's okay if you giggle out loud
Doylestown, PA (PRWEB) February 15, 2008
A cold can strike at any time of the year, so keeping our immune system working at its peak level should be something most of us should consider long before the start of cold season. "It is believed that our immune system is easily affected by a number of factors, such as diet, stress levels, environment - even the medications we take," says Suzy Cohen, R.Ph., noted pharmacist and author of The 24-Hour Pharmacist (HarperCollins, 2007). "Not knowing what particular things might affect you personally, it's important to incorporate a number of healthy changes into your lifestyle to assure that you're supporting your immune system and protecting yourself from infection all year long."
Cohen offers some tips for boosting your immunity to keep colds at bay:

Get moving: Exercise isn't just for watching your waistline. It also helps you relieve stress and keeps you cold-free. "Studies have found that moderate exercise provides a boost in the production of immune cells and circulates them throughout the body at a much quicker rate than during inactive times," Cohen advises. "Exercising releases endorphins, a powerful, hormone-like chemical, which has been shown to improve one's mood."
Managing stress: High levels of stress, even in the short-term, can be "toxic" to the immune system. "Stress can wreak havoc by weakening the strength of the immune system, making the body much more susceptible to colds and many other disorders" explains Cohen. Some easy ways to manage stress include exercise, yoga, meditation or other deep breathing exercises. Reading, listening to calming music and taking time to enjoy your hobbies are recommended.
Immune boosting: An immune boosting dietary supplement can do wonders for a stressed, fatigued and run down body. "One product I recommend is new Cold-EEZE Immune Support Complex 10," Cohen says. "It's made of a proprietary blend of 10 clinically validated herbs, vitamins and zinc to support optimum immune system function."
Laughter is the best medicine: This isn't just a myth! Laughing releases endorphins, a feel-good chemical that many believe boosts immunity. Laughter also reduces stress hormones, which are known to negatively affect the immune system. "Whether you're watching your favorite movie or spending time with friends, make it a point to laugh a lot, and it's okay if you giggle out loud," Cohen recommends.
Eat your fruits and veggies: Fruits and vegetables are diet staples because they are full of the antioxidants that are vital to good immunity, such as the B vitamins, vitamin C and phytonutrients. Foods, such as spinach, garlic, broccoli, carrots, blueberries and oranges, among others, are great sources of free-radical fighting antioxidants. And don't forget that homemade chicken soup isn't just for colds. A fan favorite during illness, chicken soup that contains fresh garlic and onions may not cure a cold, but it's a great way to boost immunity from the inside out.
Get lots of sleep: Stress is known for making people irritable, tired and run down, which usually means getting less sleep. "Getting enough sleep at night will help give your body the energy it needs to fight the effects of stress and keep your immune system working properly," Cohen says. "Aim for eight to nine hours every night, and you'll feel a difference in the morning."
###