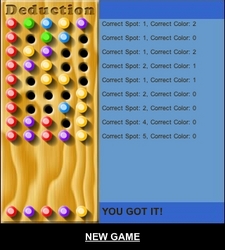 So we want to have more games for them to play.
Englewood, CO (PRWEB) February 15, 2008
Add It Up, Pyramid Solitaire and Deduction are among the latest games added to the MacMost iPhone games collection. These games add to the largest collection of iPhone games by a single company. The games can be played for free by iPhone users by simply using their iPhone to browse to iPhone Games section of MacMost.com.
MacMost.com is a Apple enthusiast site with news, tutorials and video podcasts. It is produced by CleverMedia, an Internet content company that has created more than 300 Web-based games since 1995.
Gary Rosenzweig, founder of CleverMedia and executive producer of MacMost, added four new games this week in response to continuing demand for more games.
"We continue to have thousands of people per day come to play our games," said Rosenzweig. "So we want to have more games for them to play."
Four new games this week add to the 16 games already at the site, some of which date back to the day the iPhone was released. The games also work on the iPod Touch.
While the iPhone does not include any game applications, it does allow for third-party developers to make games using the Safari Web browser built into the phone.
The Add It Up game challenges players to find number patterns that add up to to a goal while they are being timed. Deduction is a puzzle game, where the player must guess a pattern in a limited number of turns. Both games work well with the iPhone's touch screen.
Another game added this week, Chicken and Eggs, is an arcade action game where the player must click on eggs as they fall and catch them before they break. The game has been at CleverMedia's free online games site GameScene.com for years, and has always been one of the most popular games there.
The MacMost.com Web site also includes news and blog posts designed to fit the iPhone's screen. In addition, the regular video podcast, MacMost Now, is provided in mobile phone format for the iPhone.
The games can be played by going to http://MacMost.com and clicking on the "iPhone Games" link at the top of the page.
###