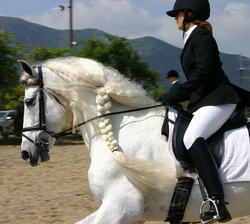 This is a wonderful tool for businesses to reach the online community
Carson City, NV (PRWEB) February 18, 2008
Whether you have a job opening or are looking for a job in the equestrian industry, USHorse.biz can help. Using the portal's free online job forum, employers can post openings for horse-related positions such as stall muckers, grooms, riding instructors, trainers, product sales reps, and tack shop managers. Job seekers or those seeking volunteer work in the equestrian industry can also post their services for free.
Accessing the USHorse.biz job forum is easy. Just use your USHorse.biz member log-in to post your job opening or service. Members can also advertise sale horses, products and items, such as new or used tack, and even themselves, through the site's equestrian singles section!
USHorse.biz offers not only high-traffic visibility for employers and job seekers, but also access to breed registries and associations, blacksmiths and farriers, overnight stabling, equestrian education, show and sport organizations and much more. "This is a wonderful tool for businesses to reach the online community," said Ada Gates-Patton, of Harry Patton Horseshoeing and Farrier Supply Company.
And if your website needs a makeover, like the recently redone site for The Equestrian News, keep in mind that USHorse.biz offers affordable custom website design and web hosting. For just $99.95 per month, you can have a strong, professional online presence for your business, large or small.
###