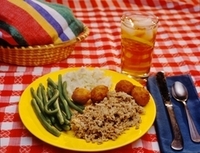 We are proud of our barbecue and love to celebrate our humble beginnings while hosting neighbors and guests.
Raleigh, N.C. (Vocus) February 15, 2008
Pulled, chopped or sliced, any way you like it—you'll find your favorite 'cue at the Blue Ridge BBQ Festival. Think you have the perfect complement to North Carolina BBQ? Submit your favorite BBQ side dish recipe to enter the Blue Ridge BBQ Recipe Contest sponsored by VisitNC.com and Cottage Living. Cottage Living Contributing Food Editor and owner of Foster's Market in Chapel Hill, Sara Foster, and Cottage Living Food Editor Kim Sunée, will choose the winning recipe and Foster will prepare the winning recipe live at the Blue Ridge BBQ Festival on Saturday, June 14.
To enter for the Grand Prize drawing, submit your recipe at http://www.VisitNC.com. A BBQ side dish includes any food or beverage item you would pair with BBQ. Entries must be submitted by 11:59 p.m. EST on March 31, 2008. The winner of the recipe contest will win the Grand Prize.
The Grand Prize includes:

Two tickets to the 15th Annual Blue Ridge BBQ Festival, June 13-14, 2008
Two nights accommodations (double occupancy) at the AAA four-star rated historic 1906 Pine Crest Inn ($250 Travel Voucher)
Gift basket filled with delightful surprises from local artisans and businesses
(Please visit http://www.visitnc.com/sweeps/bbq_08_regs.asp for official rules.)
The Blue Ridge BBQ Festival is recognized as the Home of the North Carolina State Barbecue Championship by proclamation of the Governor of North Carolina. Hosting up to 100 cooking teams, the Blue Ridge BBQ Festival is considered one of the top five Kansas City Barbecue Society (KCBS)—sanctioned BBQ competitions in the country. Through initiatives over a three-year period, the festival dramatically reduced festival waste going to landfills and instituted a major recycling program. The festival is one of the greenest cook-offs in the country.
"The Blue Ridge BBQ Festival is one of the premier barbeque events in the nation and one of the most popular festivals in North Carolina," says Lynn Minges, Executive Director of the North Carolina Division of Tourism, Film and Sports Development. "We are proud of our barbecue and love to celebrate our humble beginnings while hosting neighbors and guests."
Nestled in a mountain valley in Tryon, North Carolina with the Blue Ridge Mountains as a backdrop, the Blue Ridge BBQ Festival offers two days of mouth-watering food and a premier music festival showcasing some of the best local, regional and national talent. Artisans also come from as far away as New York to sell their wares at the Foothills Craft Fair. This year marks the 15th anniversary of the event on June 13 -14 in Tryon, North Carolina. For more information, visit, http://www.blueridgebbqfestival.com.
Barbecue Traditions in North Carolina:
Some might say that barbecue in North Carolina is as passionately discussed (or shouted about) as religion. The state's barbecue traditions cooks down to two distinct styles, Eastern and Western North Carolina barbecue. The Eastern-style barbecue centers around whole hogs being smoked on pits. The sauce is vinegar-based and boasts a reddish color from the addition of red pepper, black pepper and pepper flakes.
Western-style barbecue (found in the Piedmont and Mountain regions) relies on pork butts and shoulders versus the whole hog. The vinegar-based sauce of the Eastern part of the state is enhanced with tomato products, yet it keeps its thin consistency.
In both regions, hush puppies are the preferred bread; additional side dishes can range from baked beans to Brunswick stew to potato salad.
For more on North Carolina barbecue, visit the North Carolina Barbecue Society at http://www.ncbbqsociety.com/.
Also check out the Society's North Carolina Barbecue Trail. It recognizes the state's longstanding, most traditional barbecue restaurants at http://www.ncbbqsociety.com/trail.html.
To arrange interviews about the green side of the Blue Ridge Barbecue Festival or to receive in-depth briefings on North Carolina's barbecue tradition, contact Susan Dosier at sdosier(at)visitnc.com or call 704-953-9408.
Natural scenic beauty, adventure and relaxation, a dining experience for every taste, rich history and warm Southern hospitality come together in North Carolina. Call 1-800-VISIT NC or go to VisitNC.com to plan your next getaway.
CONTACT:
Susan Dosier,
(704) 364-8969
sdosier@visitnc.com
Wit Tuttell
(919) 733-7420
wit@visitnc.com
media@visitnc.com
###