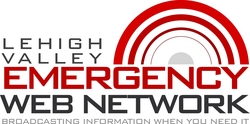 In this age of mobile browsers, search engines, and intense electronic communication, it is critical that there is a web-based broadcasting system in place that allows individuals to access complete and accurate information in the event of an emergency using the web
Bethlehem, PA (PRWEB) February 15, 2008
Senator Lisa Boscola announced today that she has allocated state funding to launch the Lehigh Valley Emergency Web Network (LVEWN) Project, http://emergency.lehighvalleynow.com/, which provides residents and organizations in the area with comprehensive information during crisis situations in a timely and accurate manner. The Lehigh Valley Emergency Web Broadcast Network is driven by Active Data Syndicator, http://www.activedatax.com/syndicator.html, software developed by Active Data Exchange, http://www.activedatax.com. The solution enables automatic delivery of digital information to multiple web sites by dynamically displaying content instantaneously from the source. "In this age of mobile browsers, search engines, and intense electronic communication, it is critical that there is a web-based broadcasting system in place that allows individuals to access complete and accurate information in the event of an emergency using the web," explains Susan Yee, CEO of Active Data Exchange.
"It is critical the Lehigh Valley sets a precedent in emergency communication by opening dialogue among disparate agencies to address public safety communication," stated Senator Boscola. This project will support the need for stronger regional collaboration between public and private sectors so that information can be disseminated promptly and directly. "We recognize the need to stay on top of established communication tools and emerging technology. This proactive approach to emergency preparedness is increasingly important as current generations rely more on the internet as their main source for information," said City of Bethlehem Mayor John Callahan.
When a crisis hits, it is critical that the public be informed as quickly as possible with information such as severe weather conditions, road closings and accidents, evacuation procedures, volunteer needs, or shelter information. Key content will come from organizations such as the American Red Cross to provide valuable emergency preparedness information. "We are very excited about the potential that this tool will provide during times of emergency. It will also allow us the opportunity to provide preparedness information on an ongoing basis to help people prepare for future emergencies," said John Hughes, Executive Director of the American Red Cross of the Greater Lehigh Valley.
A number of other community affiliates are already on board with the project such as Just Born, WLVT-39, Lehigh County, Northampton County, Lehigh Valley Now, Muhlenberg College, ArtsQuest, Wind Gap Fire Company, Bushkill Township Volunteer Fire Company, The Express-Times, Lehigh Valley Hospital and St. Luke's Hospital. Emergency preparedness is essential before, during and after a disaster and distributing correct information can be vital in saving lives.
"This project provides an opportunity for government, non-profit, and corporate citizens to work out ways to create synergies and efficiencies in public safety communication. We appreciate that Senator Boscola recognizes the value in creating the necessary communications infrastructure across the entire region," stated Lehigh County Executive Don Cunningham. Cunningham's administration is the first to have information from the LVEWN live on its public web site, http://www.lehighcounty.org/EMA/emadocs/ema_LVEWNHome.cfm.
The network aggregates and distributes local, state and national emergency and non-emergency content such as road construction information, media advisories, health alerts, safety training course schedules, current threat levels, and CDC feeds. Content feeds can be packaged by topic, geographic area, or agency and can be delivered in multiple languages to web sites, PDAs and other digital receivers. Public safety officials and city leaders can log in from anywhere and instantly share urgent messages to notify their entire constituency within minutes. Lou Pektor, President of Ashley Development Corp., recognizes that the entire community can benefit from a project like this; "Networks such as this one make our communities more marketable because it satisfies the ever growing demand of the communication age to have relevant, up-to-date information about our community right at our finger tips." This platform allows the general public to be informed pro-actively using the web rather than waiting for a phone call, email, and television or radio coverage.
Any organization interested in contributing or receiving content from the Lehigh Valley Emergency Web Network can visit the web site at http://emergency.lehighvalleynow.com/join.htm.
About Active Data Exchange
Active Data Exchange has been providing web-based event marketing and facilities scheduling software, email and text message broadcasting solutions and information broadcasting solutions for education, healthcare, corporate and government organizations since 1999. Products and services include Active Data Calendar, Active Data Communicator, Active Data Syndicator, and managed hosting. Clients include Anheuser-Busch, Rogers Communications, Sun Microsystems, SEPTA, The School District of Philadelphia, State of Florida Department of Health, California State University - Fullerton, and others. For more information, please visit http://www.activedatacalendar.com or http://www.activedatax.com.
###