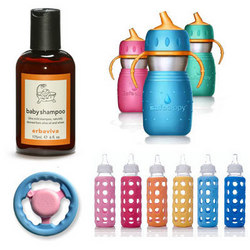 Boston, MA (PRWEB) February 16, 2008
The baby market has been booming with products as of late that answer the latest news of harmful chemicals in baby products. With the latest results of Phthalates found in 80% of tested infants, mom-owned companies are answering the call for safer baby products.
There are more mom and family-owned businesses than ever today and these moms are seeing the need for a product that would make their lives easier and safer. These mom-owned companies have the larger corporation on their toes to keep up with them. This is benefiting all parents as the competition is forcing companies to create better quality products at all price ranges that are safe and eco-friendly.
Now that there are scares about lead paint in our toys and nursery furniture as well as the scare over the bottles we give our babies and the shampoo we bathe them in, moms are providing new products that are safe in this new world of chemical bombardment.
There has been a steep rise in the cost of baby goods in the last several years. Today's mom wants to express her individual style and not have her sense of self lost in the role of mom. There is a group of moms now know as mom-venters or mom-prenuers. These moms are seeing a need and creating companies to meet these needs as never seen before due to the internet. Parents of today are wiling to spend more money on products that 'go the distance' as high quality is the number one reason parent's state for purchasing a higher-end product.
With access to the internet, families are able to find products that meet their style needs as well as their demands for safety. Parents are willing to spend more money on products that are of higher quality and are also safe for our children and the environment.
Products that meet our standards for style, safety, innovation, and quality include:
Thinkbaby Bottles
These bottles address the growing concern over toxic chemicals leaching from plastic baby bottles. They are free of Bisphenol-A, PVC, Lead, Phthalates, and Nitrosamines.
Sigg Water bottles for kids
SIGG Water Bottles for kids are tested to be 100-percent safe with NO leaching. Their stylish bottles are durable, leak-proof, and suitable for all beverages; they are also non-toxic and dishwasher safe.
Wee.Go Glass Bottles
Babylife has reintroduced glass baby bottles with a twist…the bottles are covered with a protective sleeve to prevent breakage (and spice them up with a little color!). The sleeves are free of plastics and are 100% non-toxic. All extra parts like the nipple, plastic ring, plug and cap contain no polycarbonates and are recyclable. Babylife baby bottles are bisphenol A, phthalate, PVC and polycarbonate-free.
Safe Sippy
Perfect for your toddler, The Safe Sippy stainless steel drinking cup is a non-leaching stainless steel cup that is plastic free (and free from other harmful chemicals) and they topped it with a plastic straw free from Bisphenol A, phthalates and DEHA and a cap made out of Polypropylene plastic (the most stable of plastics). The water has very little contact with these safe plastics to prevent leaching.
Klean Kanteen
Another choice for your toddler is the Klean Kanteen Sippy cup as a reusable, lightweight and safe choice. The 12 oz stainless steel bottle is designed for small hands and comes with a sippy adapter made from safe, non-leaching polypropylene and 2 spouts, or with a flat, loop or sports drinking cap.
Kiddopotamus Baby Bibs
With the recent Baby bib recall scare, we are happy to let you know that Kiddopotamus has created a bib that is latex, Phthalate and PVC free. This amazing bib is waterproof, wipes clean easily and is stain and crack resistant. Best of all, it is made in the good ol' USA.
Safe Baby Toys
When looking for safe, natural and durable toys Haba is a great choice. This German company creates durable wooden toys that last and are non-toxic. Another great choice are organic cotton plush toys by Kathe Kruse and Lana Organics. All of these great brands can be found at BrightOctober.com.
Safe Baby Shampoo
The news of Phthalates testing in infants absolutely terrified us and sent us on the hunt to find shampoo's that are Phthalate-free. Among our favorites is California Baby. California baby products do not contain Sodium Lauryl Sulfate or DEA, instead they use a non-invasive and biodegradable cleanser that can be used for hair, face and body. Their products are formulated for sensitive skin and are naturally no-tear formulas.
Other great choices include Erbaviva and Belli Cosmetics' Belli Baby line.
Swaddle Designs Receiving Blankets
Bundle baby safely in Swaddle Designs organic swaddle blankets. Made from certified organic cotton grown on family farms, the flannel is processed and pre-shrunk in Earth-friendly ways. These blankets are simply the softest swaddle blankets and while they are organic, they are also styled with Swaddle Designs signature edging.
JeJe Teether
If you are worried about what plastics may be doing to your baby, the first thing that should go are those old plastic teethers! Baby Vibe has come up with a revolutionary therapeutic teether that vibrates and is non-toxic. This safe teething ring provides a natural solution to baby's teething aches and pains.
Dudduc Nursery Furniture
Ducduc is produces modern styled nursery furniture in their own manufacturing company in New England where they sustainably harvest their own hardwoods. Their manufacturing system reduces their energy requirements and waste and their finishes are non-toxic and Hazardous Air Pollutant (HAPs) free.
Shaklee Cleaning Products
Keep your home safe with non-toxic cleaning products like Shaklee. Shaklee's Get Clean cleaning line offers you nontoxic and natural cleaning choices that are safe, powerful, green and smart. Their cleaners are non-toxic, hypoallergenic, and contain no harmful fumes.
Tot Trends Weekly takes the work out of finding new great products for your kids. We focus on high-quality products featured at user-friendly sites with excellent customer service. Read more product reviews at TotTrendsWeekly.com.
###