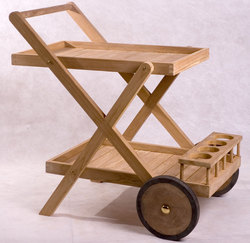 Without you, we are nothing!
Stamford, CT (PRWEB) February 16, 2008
BeFurnished.com takes pride in the furniture they sell to their customers. They offer a great selection, high quality as well as styles that are as individual as the patrons who buy from them. This is true of one of their latest arrivals at their store, the Trolley Table.
The Trolley Table is a great example of all of the attributes that BeFurnished.com strives for in their furniture. It is top notch quality, distinctive in appearance, and comes at a fantastic price. Because it is a table on wheels, it offers its owners the convenience of eliminating several trips inside by enabling them to wheel appetizers, serving ware, or drinks to the intended destination all in one trip. It sports two trays, and a built-in bottle holder to ensure that the drinks won't spill when wheeling over bumpy terrain.
As with most of the furniture at BeFurnished.com, the Trolley Table is made of 100% plantation-grown Indonesian teak wood, and stainless steel hardware. What this means for the consumer is that they are guaranteed that they won't have to go out and buy new furniture any time soon--unless they are simply looking for a change.
Both teak wood and stainless steel are durable products, with teak wood being termed as the "king" of all hardwood. It has been the pillar of the shipbuilding industry for centuries. Many do not realize that the decks of the Titanic were covered in teak, and the wood is as good today as it was the day it sank in 1912--truly attesting to its durability. In addition to its enduring traits, teak wood has the ability to withstand harsh climates, chemicals, fungi, and rot--making it ideal to use as outdoor furniture anywhere in the world.
The stainless steel hardware of the Trolley Table also has its benefits because it happens to be one of the strongest and most practical forms of alloy available. Combining it with teak wood only enhances the product and adds to the value and resiliency.
The motto at BeFurnished.com is, "Without you, we are nothing!" The excellence in the furniture and their efforts to make it everything the consumer would want just proves that they take their motto seriously. Clearly, their new Trolley Table is yet another example of how they do just that.
For more information on teak tables, please visit BeFurnished.com.
###