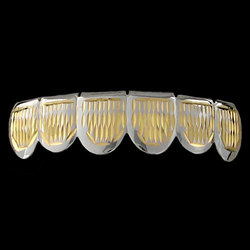 Columbia, MD (PRWEB) February 22, 2008
Grillz have become a global phenomenon during the past two years. Before these recent years, the only way to purchase the product was through jewelers with special skills. This was because making gold teeth requires a mold from the customer and the jeweler had to make the product from scratch. This discouraged buyers because it was time consuming and expensive. Ever since the release of universal fitting teeth grillz, hip hop fans around the world were introduced to an easy and inexpensive way to get the same look as their favorite rappers and stars. These products are on the internet, through reputable retailers such as hiphopbling.com. The company offers over 150 styles, which is likely one of the largest selection anywhere.
Shoppers looking for clean looking platinum teeth, can find a large selection of non-iced, plain styles. The hottest sellers right now are the full polished platinum or gold teeth. This style features a clean, full polished mirror shining set. The product is made with high quality jeweler's metal and is then plated with thick coats of pure 24k gold or sterling silver. The finish is a plain, stylish product that's not too flashy. They are available in plain or vampire teeth styles. For those who are looking for a bit more style, the company just released a line of diamond cut grillz. Many of these styles are plain with no ice, but they are decorated by unique diamond cuts which are etched into the teeth and are plated with a contrasting finish. The end result is an intricate, rare grill that will surely be noticed.
To get noticed, a mouth full of stones will definitely do the trick. Some of the best iced out grillz are in the VIP collection and the premium grillz collection. This is the category with some of the most intricate deigns featuring multi colored stones and high quality settings. For the most unique looking iced out versions, the custom hip hop grillz collection is the place to be. These are replicas of the custom teeth worn by some of the hottest stars in hip hop. We call them custom because they were custom made and were meant to be one of a kind. But now, you can get that same one of a kind look without the cost. To get a true idea of what we're talking about, it must be seen in person.
Hiphopbling.com also features sterling silver grillz, multi-colored stone versions, top teeth, bottom only styles and combos. This is perhaps the largest selection of hip hop grillz around and it is in stock at every day low prices. With record sales expected this year, this retailer aims to add even more styles by the summer.
###