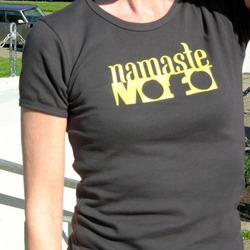 The divine in me recognizes and honors the divine in you, but you don?t have to get all up in my grill.
Albany, CA (Vocus) February 22, 2008
San Francisco, CA - Erin Saul, founder of San Francisco Bay Area-based t-shirt brand Namaste Mofo™, will host a party on February 23 to celebrate its official website redesign launch. The celebration, open to the public, will occur this Saturday, February 23, and be held at 111 Minna Gallery, San Francisco from 5 to 9 p.m. and feature a 6 p.m. fashion show, snacks and cash bar.
A dedicated yoga student and former print buyer at a San Francisco ad agency, Saul's launch party will also commemorate her departure from her day job. By dedicating herself full-time to growing the Namaste Mofo™ brand through her t-shirt company Stretch Limited, she joins the ranks of women pursuing their own businesses -- a national trend occurring at three times the rate of men.
Namaste, a Sanskrit term meaning "I bow to you" coupled with mofo, a slang word for motherf*cker, embodies the spirit of Saul's controversial brand when combined. Namaste Mofo™ means "The divine in me recognizes and honors the divine in you, but you don?t have to get all up in my grill."
Created in 2005 by Saul, Namaste Mofo™ features "irreverently reverent yoga-related shirts and stuff" with racy sayings like, "My Savasana Can Kick Your Savasana's A**," and "Leave Me Alone, I'm Not Inverting." The collection also includes the signature "Namaste MoFo™" as well as "xoxo mofo" for the non-yoga community.
Inspired by a fellow yogi's verbal display of intolerance, Saul realized that although those practicing yoga strive to be spiritual and connect to all that is, "Sometimes we slip up and spout a profanity or two, have some anger or rage or a wobbly tree pose, and we are entitled to that because we are human..."
Namaste Mofo's philosophy has already struck a chord with many in the San Francisco Bay Area who identify with Saul's tongue-in-cheek irreverence. Her t-shirts have been available since 2006; however, the launch of the redesigned website will officially bring this entrepreneur's perspective to the masses.
# # #