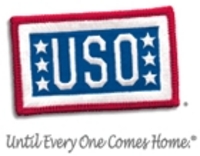 Playing the role of a soldier on "Brothers & Sisters," I really look forward to meeting the actual brave men and women in uniform who are the real heroes.
Arlington, VA (Vocus) February 22, 2008
Actors Dave Annable, known as 'Justin Walker' in the hit ABC series "Brothers & Sisters," and Minka Kelly, who portrays 'Lyla Garrity' in NBC's "Friday Night Lights," will visit troops stationed in Guantanamo Bay, Cuba as part of a USO/Armed Forces Entertainment tour Feb. 25-Mar. 1. During their visit, Annable and Kelly will tour a variety of posts and "meet and greet" service members and their families.
Depicting a young man who enlists in the Army after 9/11, Annable plays the youngest of the Walker siblings who gets deployed to Afghanistan and returns home, only to be redeployed to Iraq. Adamant on upholding the accuracy of his character's storyline, Annable's portrayal reveals the difficulty in leaving behind loved ones, the hardships of war, the challenges of returning home and the feelings of redeployment.
Currently portraying a young woman embarking on a spiritual journey in "Friday Night Lights," Kelly attended "A Salute to Our Troops" ceremony in New York City on Veterans Day 2007. Demonstrating her support to those in uniform, Kelly presented an award to a Vietnam veteran responsible for reuniting wounded service members with their families. Hosted by the USO and the Microsoft Corporation, the event honored the military community and recognized individuals who brighten the lives of troops and their families.
"I am very excited about our upcoming USO tour to Cuba," says Annable. "Playing the role of a soldier on "Brothers & Sisters," I really look forward to meeting the actual brave men and women in uniform who are the real heroes."
Dave Annable is regarded as one of Hollywood's most sought-after actors. Prior to his current role, he was best known for his role in Fox's critically acclaimed drama, "Reunion." Annable's breakout role came in 2006 when he joined the cast of "Brothers & Sisters" with esteemed actors including Sally Field, Calista Flockhart, Rob Lowe, Matthew Rhys, Rachel Griffiths, Emily Van Camp and Balthazar Getty.
Born in Los Angeles and raised in Albuquerque, Minka Kelly is recognized as a stunning and talented young actress. Currently appearing in "Friday Night Lights," she recently starred in Universal Pictures' "The Kingdom" featuring Jamie Foxx and Jennifer Garner. Kelly's additional television credits include guest-starring roles on Fox's "Cracking Up," NBC's "American Dreams," Nickelodeon's "Drake and Josh" and the WB's "What I Like About You."
In times of peace and war, the USO has consistently delivered its special brand of entertainment and comfort to service men and women. USO tours are essential to fulfilling the USO's mission of boosting troop morale. In 2007, the USO produced 74 tours and staged 453 special events, to include music concerts, autograph signings, hospital visits and movie screenings.
AT&T, Inc. is the official telecommunications sponsor of USO entertainment tours. For a list of recent and upcoming USO tours, visit http://www.uso.org/whatwedo/entertainment. To learn more about the USO or to find out how to support the troops, visit http://www.uso.org.
About the USO
For more than 67 years, the USO (United Service Organizations) has been providing morale, welfare and recreational services to U.S. military personnel and their families. The USO is a nonprofit, charitable organization, relying on the generosity of the American people to support its programs and services. The USO is supported by Worldwide Strategic Partners AT&T Inc., BAE Systems North America, Clear Channel Communications, The Coca-Cola Company, DRS Technologies, Inc., S & K Sales Co., and TriWest Healthcare Alliance. Other corporate donors, including the United Way and Combined Federal Campaign (CFC-11381), have joined thousands of individual donors to support the USO. For more information on the USO, please visit our Web site at http://www.uso.org.
Contact:
Oname Thompson
(703) 908-6471
othompson@uso.org
###