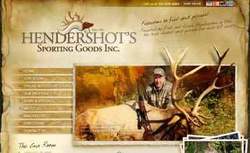 Our slogan is 'Firearms to Fuel Your Passion,'
Hancock, MD (PRWEB) February 25, 2008
Hendershot's Sporting Goods Inc., a resource for hunting and shooting enthusiasts, announces a complete website redesign. Hendershots.net now offers an online shopping resource for the purchase of hunting rifle scopes and optics, knives, Blaser products, ammunition, and other accessories, along with their complete selection of available deer hunting rifles and other firearms.
In business for over 40 years in Hancock, Maryland, the expansion to online sales was the next logical step for Hendershot's. A small, family-owned business, they are looking to bring the level of customer service they have provided their customers into the online arena. They carry top-shelf products, but it is the focus on service and attention to detail that matters most to Vice President Lance Hendershot.
"Our slogan is 'Firearms to Fuel Your Passion,'" Hendershot said. "At Hendershot's, our knowledge is only exceeded by our service. Having done this for over 25 years, I have a great knowledge of the business and the products, but what is important to me is the passion for the pastime. We understand the passion customers have because we have it ourselves." The new site will set an industry standard for customer convenience and usability, in keeping with the Hendershot's tradition. The store focuses on products for the traveling and international hunter.
The site's Gun Room focuses on high-end deer hunting rifles and other firearms from leading manufacturers that include Remington, Cooper, and Winchester, brands that, like Hendershot's, have withstood the test of time. The online accessories store carries hunting rifle scopes and other optics, conversion kits, gun cases and leather goods, and more, with products being added constantly.
Hendershot added: "Hendershot's may not be for everyone. We have a selection of top-shelf firearms and accessories that fill a very nice niche -- those who are as passionate about this as we are."
For more information, or to browse the selection of firearms, hunting rifle scopes and accessories, visit Hendershots.net.
About Hendershot's Sporting Goods Inc.:
Founded in 1961 in the historic Potomac River town of Hancock, Maryland by the father and son team of Carl and Glenn Hendershot, Hendershot's Sporting Goods began as a small shop with a few guns and a small selection of ammunition, dog supplies, and fishing and camping gear. Since that time, Hendershot's has grown to become Maryland's premier gun retailer, with the largest inventory of firearms in the state. It is now run by Jerry and Lance Hendershot, another father and son duo, bringing a third generation into the family business.
###