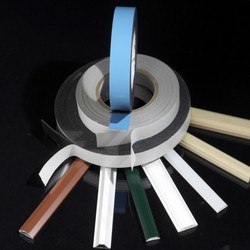 Riverhead, NY (PRWEB) February 25, 2008
Adchem Corporation (http://www.adchem.com/), a leading manufacturer of high performance film and foam bonding adhesive tapes for the fenestration markets, has developed a second-generation muntin bar tape for low surface energy materials.
The new LSE SDL (Low Surface Energy Simulated Divided Light) tape system is designed for use with Kynar 500® pvdf resin based coating systems, Vitrasil® acrylic polyester and powder coated finishes. All Adchem muntin tape systems eliminate the need for liquid silane adhesion promoters.
The LSE SDL series provides long-term indoor and outdoor adhesion to a variety of window substrates including easy to clean and "self cleaning" glass. The system also bonds to cellular PVC, vinyl, primed and unprimed wood, plastic, and painted aluminum muntin bars.
Establishing a new standard for muntin bar adhesives, Adchem's muntin bar tapes maintain high shear, tensile, and cleavage strength while providing resistance to air, water, detergents, moisture, UV light and dust. The new LSE SDL product is available in .032 black.
Serving the window and door market for 22 years, Adchem is an active member of the American Architectural Manufacturers Association. For more information contact Joseph Pufahl, Adchem's Window and Door Business Development Manager, at jpufahl @ adchem.com or 631-727-6000 x213.
About Adchem Corporation:
Adchem, an ISO 9001 certified and A2LA accredited company, engineers and manufactures high performance film and foam bonding adhesive tapes, including double-coated papers, films, tissues, foams and fabrics; transfer tapes; one-side coated products and other custom-coated specialty products. Their 100% solids adhesives, solvent and water based acrylics and rubber adhesives are used in a variety of industries, including automotive, construction, electronics, graphic arts, medical and general industrial tape applications.
###