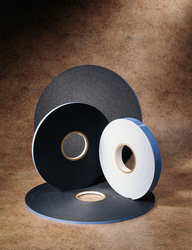 Riverhead, NY (PRWEB) February 25, 2008
Adchem Corporation (http://www.adchem.com/)], a leading manufacturer of high performance film and foam bonding adhesive tapes, introduces the new AAMA approved HF series of hybrid glazing tape for the window and door market. The product has recently passed DP 50 (design pressure at 50 psi) at a number of major window and door accounts. The new glazing tape system joins Adchem's family of GT acrylic glazing tapes and SDL muntin tapes and is designed to meet the unique adhesion demands of vinyl window and door glazing applications.
The HF series provides a high-strength, UV-resistant acrylic adhesive bond to glass and an aggressive rubber-based adhesive bond to the vinyl lineal coated on a cross-linked closed-cell polyolefin foam. The foam has excellent temperature resistance to 180 F and maintains 338% elongation to break with less than .4% water absorption, creating a strong, yet flexible and impermeable moisture barrier. The HF series also offers an easy-release, high tear strength, high density blue polypropylene release liner for easy removal from IG glass units.
Available in 1/16th white as HFW 295, black as HFB 295, and 3/32" white as HFW 395 the HF series is also available in 1/32nd and 1/8th on special orders. HF is distributed in the U.S. through major window and door distributors including Lamatek in West Deptford, NJ http://www.lamatek.com.
Serving the window and door market for 20 years, Adchem is ISO 9001-2000 certified and an active member of the American Architectural Manufacturers Association. For more information, contact Joseph Pufahl, Adchem's Window and Door Business Development Manager, at jpufahl@adchem.com or 631-727-6000 x 213.
About Adchem Corporation
Adchem, an ISO 9001 certified and A2LA accredited company, engineers and manufactures high performance film and foam bonding adhesive tapes, including double-coated papers, films, tissues, foams and fabrics; transfer tapes; one-side coated products and other custom-coated specialty products. Our 100% solids adhesives, solvent and water based acrylics and rubber adhesives are used in a variety of industries, including automotive, construction, electronics, graphic arts, medical and general industrial tape applications.
For additional information and samples, please contact Adchem Corporation, 1852 Old Country Road, Riverhead, NY 11901 Phone: (631) 727-6000 Fax: (631) 727-6010 or our website at http://www.adchem.com.
# # #