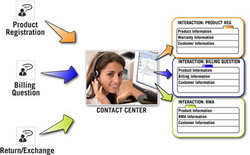 With RightNow we are able to deliver customer sentiment in real time to our key decision makers.
Bozeman, Mont. (Vocus) February 25, 2008
RightNow® Technologies (NASDAQ: RNOW) today introduced RightNow February '08, the latest release of its enterprise-class, on demand customer relationship management (CRM) solution. With this latest version, RightNow delivers a new contextual workspace for maximum agent productivity, as well as new topic monitoring capabilities that enable companies to quickly understand customer sentiment.
To learn more about RightNow February '08, visit: RightNow Technologies
New Contextual Workspace
RightNow has enhanced the agent desktop with a new workspace that helps organizations immediately engage customers with relevant, personalized service. Using information from and about the customer and knowing what actions the agent must take, RightNow tailors content and functionality on the agent's desktop to address the issue at hand. Certain fields and tabs will be dynamically displayed or hidden in the workspace based on the context of the interaction. For example, if a customer calls to return a product, the agent's desktop -- which can be integrated with a return merchandise authorization (RMA) system -- will automatically present the data and steps to enable a return. Or, if a customer is calling to register a product, the agent's desktop instantly displays a product registration screen.
"Within the RightNow solution, contact center agents can use a drag-and-drop layout designer to easily configure their desktop workspace to meet individual needs," said David Vap, vice president of products at RightNow. "Our new contextual workspace takes this a step further to allow organizations to configure the agent workspace to dynamically change to meet the needs of each customer inquiry. Contact center agents who are armed with the right tools and knowledge at the right time are able to provide fast, accurate and personalized service and the very best possible customer experience."
Take a look at the new Contextual Workspace from RightNow.
New Topic Monitoring
To empower companies to exceed customer expectations, organizations must understand those expectations and be prepared to address them quickly. In this latest release, RightNow has added topic monitoring capabilities, which help organizations capture and measure customer feedback, by automating the review of feedback from customers.
Analyzing customer feedback delivered through numerical rankings or multiple choice answers are helpful, but customer "write-in" comments usually provide the most valuable information. Analyzing this information is more difficult and time consuming and typically requires a great deal of manual processing. RightNow's new topic monitoring feature gives organizations the ability to automatically measure customer sentiment by grouping or clustering common topics within the unstructured text responses. For example, after a new product is launched, RightNow's customer satisfaction survey software can send a feedback survey to customers. As surveys are returned, a word such as "defective" can be automatically identified when it appears in multiple responses. The information can then be routed to appropriate staff for immediate follow-up.
In August of 2007, RightNow announced the addition of emotion detection features that gauge customers' opinions by applying an emotional rating to text-based customer communications. Coupled with RightNow's new topic monitoring capabilities, organizations can now be confident they understand customer sentiment and have the information needed to deliver better customer experiences.
For more information about RightNow February '08 go to: RightNow Technologies
Customers agree, RightNow helps companies understand customer sentiment and deliver exceptional experiences
"With RightNow we are able to deliver customer sentiment in real time to our key decision makers." -- Chuck Udzinski, Black & Decker manager of end user services
Black & Decker® is a global manufacturer of power tools and accessories, hardware and home improvement products, and technology-based fastening systems
"RightNow has enabled us to achieve stunning quality and efficiency across our web, email, and phone support channels. That quality and efficiency help us keep customers loyal and happy, while also enabling us to keep costs low and provide our developers with rich insight into current customer concerns." -- Brent Wilkinson, Ubisoft's director of customer support for North America
Ubisoft is a leading producer, publisher and distributor of interactive entertainment products worldwide
About RightNow Technologies
RightNow (NASDAQ: RNOW) delivers the high-impact technology solutions and services organizations need to cost-efficiently deliver a consistently superior customer experience across their frontline service, sales and marketing touch-points. Approximately 1,800 corporations and government agencies worldwide depend on RightNow to achieve their strategic objectives and better meet the needs of those they serve. RightNow is headquartered in Bozeman, Montana. For more information, please visit RightNow Technologies.
RightNow is a registered trademark of RightNow Technologies, Inc. NASDAQ is a registered trademark of the NASDAQ Stock Market.
Safe Harbor Statement under the Private Securities Litigation Reform Act of 1995:
This press release may contain forward-looking statements. These forward-looking statements are not guarantees of future results and are subject to risks, uncertainties and assumptions that could cause our actual results to differ materially and adversely from those expressed in any forward-looking statement. The risks and uncertainties referred to above include, but are not limited to, risks associated with our business model; the market success of our new product releases, including our February 08 release; the gain or loss of key customers; competitive pressures; our ability to expand operations; fluctuations in our earnings as a result of the impact of stock-based compensation expense; interruptions or delays in our hosting operations; breaches of our security measures; our ability to protect our intellectual property from infringement, and to avoid infringing on the intellectual property rights of third parties; our ability to manage and expand our partner relationships; and our ability to expand, retain and motivate our employees and manage our growth. Further information on potential factors that could affect our financial results is included in our Annual Report on Form 10-K, quarterly reports of Form 10-Q, and in other filings with the Securities and Exchange Commission. The forward-looking statements in this release speak only as of the date they are made. We undertake no obligation to revise or update publicly any forward-looking statement for any reason.
# # #