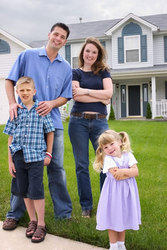 We pride ourselves on helping our employees and customers, especially now in these turbulent times.
Delray Beach, FL (PRWEB) February 28, 2008
Confirming the need for fair and equitable down payment assistance programs Buyers Account announces the opening of 3 new offices in Scottsdale, Arizona, Sacramento, California and Orlando, Florida. Staffed with knowledgeable and experienced real estate professionals these new offices will provide local access to the unique Buyers Account Earned Income down payment assistance program.
Even though the mortgage industry is in shatters, people still need to move their families and buy homes. How does a regular guy with a family and a good job qualify for a loan in today's market? Let me tell you how. Through a very specific, open and fair program based on the IRS definition of 'Earned Income.' What is 'Earned Income?' It is exactly that. It is 'Earned Income' or 'money earned through employment' and that earned income can be used in just about any manner in a real estate transaction to pay down payments, closing costs or other fees.
Existing down payment assistance programs are being shut down in droves. These programs were fundamentally flawed because they 'Gifted' money without collecting taxes. The Buyers Account Earned Income program fixes that problem, complies with RESPA and is growing at a breakneck speed.
This program saves distressed sellers, helps able borrowers and stabilizes the real estate market while being fair, honest and open. Is this creative financing? Sure, it is...and in today's market it must be but this new program is fair, open and all above board so its future seems guaranteed in a market where down payment assistance is needed more than ever.
Listen to this story.
Paul Kennedy's family needed to close on their new house by the end of the month and his lender was demanding more down payment funds. Paul didn't have the additional down payment and was going to loose his dream home plus the deposit he had already put down. Making matters worse new tenants were moving into his current apartment so he had to be out at the end of the month. Paul had no place for his family to live.
Paul felt like all hope was lost until, he found the unique and inventive 'Earned Income' program offered by Buyers Account that provides a legal and RESPA compliant way for a home owner to give up some profit to help sell his house. That is exactly what Paul Kennedy did and now Paul and his family now live in their dream home at a value they can afford. Paul joined the Buyers Account program and his new job paid him a commission of $55,000 dollars which was used to put a 20% down payment on that home. His only obligation is to pay taxes on that money at years end.
The home seller agreed to purchase a valuable membership to the nation's largest association of home owners and leaves it with the house. By giving up some of their profit the sellers were able to separate their home from the others in the market and get it sold.
Head of Marketing, Patricia Looney recounts many stories like this were Buyers Account has saved a deal at the last minute. "We pride ourselves on helping our employees and customers, especially now in these turbulent times." She continues, "We fully disclose all information and never put a lien or any type of 2nd mortgage on the property, so everyone wins."
I think she is right.
Everyone Win's with this program.

Distressed home sellers give up some of their profit to sell the house faster.
Home buyers get property at reduced values.
Home buyers qualify for and buy a home with a mortgage they can afford.
Home values are not artificially lowered due to the owner's need to sell quickly.
The values of other homes in the neighborhood are not lowered by artificial price drops.
Lenders get exactly what they expect to get.
The equity stays with the house as no other liens are in place.
The membership stays with the house.
For more information about the Buyers Account program visit their website at http://www.BuyersAccount.Com
###