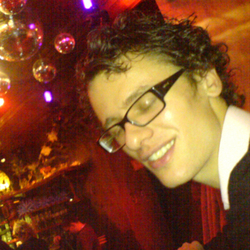 Samuel Beckett's 'Waiting for Godot,' new film adaptation directed by Nigel Tomm, serves us 72 minutes and 5 seconds of pure green screen. Nothing less and nothing more
New York, NY (PRWEB) February 26, 2008
Overwhelmingly creative, writer/artist/director Nigel Tomm releases the ninth volume of his novel 'The Blah Story.' Nine volumes of 'The Blah Story' contain 3,277,153 words; 16,220,507 characters (with spaces); 6580 pages. It is the longest novel published in English literature/language.
In his most exclusive novel--'The Blah Story,' Nigel Tomm demolishes the barrier of words and meaning, giving vitality and expressive strength to the pattern of the text. It is a new way of conceiving text that frees the imagination, allowing you to personalize each and every word by your own creativity.
'The Blah Story' will probably go down in history as Nigel Tomm's masterpiece. And deservedly so. In 'The Blah Story' Nigel Tomm introduces literary phase-shifting, i.e., allowing nearly identical phrases at slightly differing lengths to repeat and slowly go out of phase with each other. Also algorithmic literature's and fractal literature's methods are extensively used.
Nigel Tomm's literary phase-shifting minimalism is made dazzlingly entertaining in 'The Blah Story,' which is made persuasively engaging textures from repeated phrases in the novel. 'The Blah Story' is based mostly in steady pulse, stasis and slow transformation, and often reiteration of phrases or other textual units such as paragraphs, sentences, and words, with over usage of the word 'blah.'
Traditionally the longest novel title is held by Marcel Proust. His novel 'A la recherche du temps perdu' (English translation is titled 'Remembrance of Things Past or In Search of Lost') contains 9,609,000 characters, nearly 1.5 million words. Wikipedia states that Henry Darger's 'The Story of the Vivian Girls' is the longest novel (15,145 pages novel manuscript) but it is unpublished. Other long novels are: Madeleine de Scudery's 'Artamene' (2.1 million words), L. Ron Hubbard's 'Mission Earth' (1.2 million words), Marija Juri%u0107 Zagorka's 'Gordana' (over 5200 pages) and others.
Some 'The Blah Story' trivia facts: 'The Blah Story, Volume 4' contains the world's longest sentence in English (469,375 words or 2,273,551 characters [with spaces]; 732 pages); 'The Blah Story, Volume 8' contains world's longest poem in English (98,728 words; 449,441 characters [with spaces]; 23,161 lines; 728 pages).
Nigel Tomm is known for developing and extending literary remix (also known as literature remix or remixed literature) genre in his previous works: 'Shakespeare's Sonnets Remixed' (2006), 'Shakespeare's Hamlet Remixed' (2007) and 'Shakespeare's Romeo and Juliet Remixed' (2007).
Nigel Tomm is also known as a film director. His five films 'Hamlet,' 'Oedipus Rex,' 'The Brothers Karamazov,' 'Waiting for Godot' and 'The Catcher in the Rye' explore and demolish new absurdism genre. Probably they are one of the most intense, the most radical, the most innovative manifestation of the freedom of thought, of expression and of creation, as usual, Nigel Tomm keeps on top of the shape of drama to come.
In William Shakespeare's 'Hamlet' adaptation Nigel Tomm shows us 63 minutes and 1 second of pure white screen. Sophocles' 'Oedipus Rex' directed by Nigel Tomm lasts 71 minutes and 20 seconds. This is 71 minutes and 20 seconds of pure red screen; absolute tragedy is built in new aesthetics where freedom of expression allows unique experiences. "Samuel Beckett's 'Waiting for Godot,' new film adaptation directed by Nigel Tomm, serves us 72 minutes and 5 seconds of pure green screen. Nothing less and nothing more" explains us Tomm's agent. The most extravagant depths of our wildest imagination are packed in 75 minutes and 6 seconds of pure blue screen where 'The Catcher in the Rye' is deconstructed. All the movies on DVD are available at Amazon.com
###