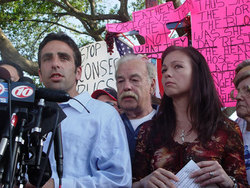 the biggest regret of his political career was his vote to support the right of the parents of brain-damaged Terri Schiavo
Kansas City, Missouri (PRWEB) February 29, 2008
Listen live this Saturday morning (live stream) at 9 am CST on KCMO Talk Radio 710 AM, when Cary Hall gives Terri Schiavo's family the opportunity to respond to Senator Barack Obama's recent statement that "the biggest regret of his political career was his vote to support the right of the parents of brain-damaged Terri Schiavo" to appeal in a federal court to keep her alive by sustaining her feeding tube.
With the help of Terri Schiavo's family, Cary Hall will examine the controversial voting record of Barack Obama including his vote against a bill in the Illinois legislature to provide medical care to infants who survive abortions as well as his opposition to a bill to mandate health care for a baby who survived an abortion.
Find out what Obama's statement means to the American people and Terri's Foundation as it strives to raise awareness about euthanasia, national healthcare, end of life issues, advance directives, hospital ethics committees -- with an update on the Lauren Richardson case in Delaware.
Find out why Obama must continue to push the lie that 47 million Americans are uninsured, why he wants to place profit caps on the commercial health insurance industry and why allowing disabled people like Terri Schiavo to live cannot fit into his National Health Care plan that will be based on "quality of life" while it forces American's to wait in long lines for medical treatment.
The Health Insurance Advocate airs this Saturday on the KCMO 710 AM live web feed at:
The show airs at 9 am CST, 7 am PST, 8 am Mountain and 10 am EST.
Or listen to the program anytime this week by visiting http://www.thehealthinsuranceadvocate.com.
Contact:
Vicky Bisby
913.385.2224
http://www.thehealthinsuranceadvocate.com
The Health Insurance Advocate
10540 Marty, Suite 200
Overland Park, KS 66212
###