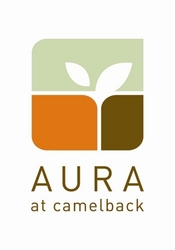 Sustainable luxury living is what sets Aura at Camelback apart from any other development existing or planned
Phoenix, AZ (PRWEB) February 29, 2008
An industry-changing project under development in the prestigious Camelback Corridor will forever change the way people think about the way they live. Aura at Camelback, from Catalyst Communities, is a ground-breaking residential enclave in Phoenix designed to help residents live the life they have always dreamed, without compromise -- one that blends environmentally-sustainable homes with timeless luxury and a shared sense of community. It is a new paradigm Catalyst refers to as "Sustainable Luxury Living."
Aura at Camelback, located at 25th Street and Campbell and within walking distance to the Esplanade and the Biltmore area, carefully integrates three key elements: sustainability, luxury and community. "Sustainable luxury living is what sets Aura at Camelback apart from any other development existing or planned," says Chad Gifford, president of Catalyst Communities, the project's developer. "We strive to respect the environment and honor the health of both our planet and ourselves through energy efficient design without compromising the lifestyle we deserve."
The community is planned to be the largest LEED Silver for Homes certified project in Arizona. Aura at Camelback will deliver energy efficiency in a number of ways including solar-powered electricity systems on every home, water-saving measures and fixtures, sustainable materials, low-e window panes and numerous other eco-centered measures. LEED certification (Leadership in Energy and Environmental Design), a metric of the U.S. Green Building Council, signifies that a building has created and maintains a healthier living environment through better and more efficient use of key resources such as energy, water, materials and land. Gifford estimates that more than 80 percent of each residence will be powered with solar technology.
Aura at Camelback promotes "balanced luxury," the ability to combine outstanding creature comfort with responsible living. Views of the surrounding mountains, expansive rooms with two story height ceilings, private elevators in every home, private rooftop gardens, lush landscaping, extensive courtyards with water features, large backyards and private underground two-car garages with bonus rooms are just a few of the amenities residents will enjoy at Aura at Camelback. Community engagement will also be a key element of Aura at Camelback. "You'll know your neighbors, share stories and dine together," Gifford says. "It will truly feel like home."
Catalyst Communities has partnered with Prudential Arizona as the exclusive sales agency for this unique community. The Aura Sales Center is located at 3200 E. Camelback Road, Suite 103 in Phoenix, within Prudential's Camelback Sales Center.
Senior Rae Kristoff Architecture of Phoenix handled the unique design for Aura at Camelback while Urban Edge Builders of Scottsdale will be building the project. There are 36 residences ranging from 2,469 to 3,147 square feet. Prices range from the $900,000's to approximately $1.3 million. Aura at Camelback will break ground in May 2008 with completion scheduled for mid 2009. For more information about Aura at Camelback, please visit http://www.auraatcamelback.com.
Sales are conditioned upon buyer's receipt and acceptance of ADRE Public Report. Prices, plans, architectural renderings, specifications and availability are preliminary and subject to change without notice. Completion date is a good faith estimate but not guaranteed.
ABOUT AURA BY CATALYST COMMUNITIES
Based in Phoenix, Arizona, Catalyst Communities was formed in 2006 to promote a new approach to homebuilding called "sustainable luxury living" and branded "Aura." The first development, "Aura at Camelback" is Catalyst's flagship urban townhouse community being built in Phoenix's Camelback Corridor. Scheduled for completion in mid-2009, the development redefines how developers can creatively combine three key elements of a quality lifestyle: luxury living, environmentally conscious design and a close-knit community. With Aura at Camelback, Catalyst Communities has pledged to make an energy efficient property certified as a silver LEED (Leadership in Energy and Environmental Design) residential community as determined by the U.S. Green Building Council and Zero Energy Homes as determined by the U.S. Department of Energy. For more information, please visit http://www.auraatcamelback.com.
Aura and Catalyst are trademarks of Catalyst Communities, LLC. Other names and brands are the property of their respective owners.
###