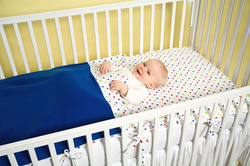 Beverly Hills, CA (PRWEB) February 29, 2008
Snap Cozy™ Crib Blankets announced today its participation in the Jennifer Lopez Swag Bag as provided by WOW! Creations of Beverly Hills.
Jennifer was gifted two cuddly, sunshine yellow polk-a-dot Snap Cozy™ Crib Blankets in order to keep her twin babies snug and warm in their cribs. Snap Cozy™ stays on baby and cannot be kicked off or become loose and tangled. These ultra- soft baby blankets are designed to help babies sleep better by offering them a feeling of being gently held without being constricted. Moms and dads, like Jennifer and Marc, will have peace of mind knowing their beautiful babies will stay perfectly warm and cozy throughout the night.
For details on the blankets included in Jennifer Lopez's Swag Bag, visit http://www.snapcozy.com.
Snap Cozy™ Crib Blankets
Stays on baby! Babies stay warm and snug in a snap! Snap Cozy™ is the first baby blanket designed for safe crib use, which provides parents with a sense of peace knowing that their baby will be safe and comfortable all night long. This 100% cotton flannel blanket is layered with lightweight breathable fleece and stays on baby as they sleep so they remain safe and snug! Snap Cozy™ promotes back sleeping and helps sleep positioner's stay in place. Designed by a Mom, recommended by Pediatricians.
###