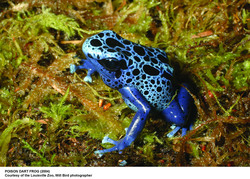 In addition to lending their scientific expertise, accredited zoos and aquariums are serving as environmental educators, reaching 157 million visitors each year
Silver Spring, Maryland (Vocus) February 29, 2008
Today, Leap Day, more than 100 accredited zoos and aquariums in North America, joined by their counterparts around the globe, kicked off the Year of the Frog to educate people about the amphibian conservation crisis.
"The Association of Zoos and Aquariums has declared 2008 the Year of the Frog; and with good reason. A fungus, which kills 80 percent of exposed frogs, toads and salamanders, has spread to every continent," said AZA President and CEO Jim Maddy. "One-third of all amphibians on the planet could be lost because of this fungus and other threats."
Habitat loss, pollution, and invasive species continue to threaten amphibian populations. But the fungus Batrachochytrium dendrobatidis (Bd) presents a unique conservation challenge. Hundreds of amphibian species will die if left in their native habitats. They can only be saved if they are collected and housed in bio-secure facilities until answers can be found.
Lending critical support to the effort, Disney Wildlife Conservation Fund today announced a $250,000 donation to the Association of Zoos and Aquariums (AZA) Amphibian Fund, which will support the urgent need to house and care for hundreds of amphibians threatened with extinction.
"In addition to lending their scientific expertise, accredited zoos and aquariums are serving as environmental educators, reaching 157 million visitors each year," said Dr. Jackie Ogden, Vice President for Animal Programs and Environmental Initiatives at Walt Disney World and Disney's Animal Kingdom. "Disney hopes that those visitors, and everyone who cares about our planet, will contribute to the AZA Amphibian Fund too and help double the donation to save the frogs."
"Disney's conservation leadership will enable zoos and aquariums, partnered with international conservation organizations, to respond on an unprecedented scale," Maddy added. "Accredited zoos and aquariums have the unique scientific knowledge to prevent the mass extinction of amphibians. Now Disney has provided critical resources to jumpstart the mission."
For Leap Day, zoo and aquarium visitors everywhere are participating in educational activities including leapfrog contests, frog calling, zookeeper and aquarist talks, amphibian scavenger hunts, salamander habitat investigations, and close encounters with colorful and unusual amphibians.
"Going to your local AZA-accredited zoo and aquariums is a great way for families to support wildlife conservation and have a great time doing it," said Maddy.
The Disney Wildlife Conservation Fund (DWCF) was established in 1995 on Earth Day (April 22) as a global awards program for the study and protection of the world's wildlife and ecosystems. It provides annual awards to US nonprofit conservation organizations working alongside their peers in other countries. In 1998, as Disney's Animal Kingdom Theme Park opened, the DWCF made its first grants. Since then, the DWCF has supported 650 projects with more than $11 million in grants to organizations and individuals working in 110 countries.
Founded in 1924, the Association of Zoos and Aquariums is a nonprofit organization dedicated to the advancement of zoos and aquariums in the areas of conservation, education, science, and recreation. Look for the AZA logo whenever you visit a zoo or aquarium as your assurance that you are supporting a facility dedicated to providing excellent care for animals, a great experience for you, and a better future for all living things. With its more than 200 accredited members, the AZA is a leader in global wildlife conservation, and your link to helping animals in their native habitats. To find the accredited zoo or aquarium near you, visit http://www.aza.org/FindZooAquarium/.
###