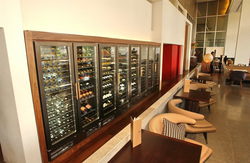 So many organisations are putting commercial catering equipment front of house, where customers can watch it in operation, and they want it to look not just good, but great
(Vocus) February 29, 2008
Buying a commercial fridge used to be a dull old job when it came to choosing the finish. Like Henry Ford, the suppliers would offer 'any finish you like, so long as it's stainless steel'. Now British manufacturer Precision has changed all that with its range of bespoke finishes. Yes, they're stainless steel. However they're anything but dull.
Precision has worked with a specialist metals company to develop a range of commercial cabinets that look exciting and (truly) sexy. Now caterers can have coloured, textured and etched stainless steel - every bit as tough and hygienic as the traditional finish, every bit as practical and efficient, but a lot better looking.
The results can be startling - such as vibrant stainless steel fascias that appear to be honeycombed (although they're not, of course). The various textures don't just look good on their own: clever lighting can lead to a whole range of stunning and striking effects - all from the humble fridge.
"So many organisations are putting commercial catering equipment front of house, where customers can watch it in operation, and they want it to look not just good, but great," says Precision's managing director Jeremy Hall. "In designer bars and restaurants everything has to fit, to enhance the décor. We're talking about fridges as an integral feature of the overall design concept. In effect, refrigeration as art."
Although the new finishes are available on most of Precision's refrigerators and freezers, including both undercounter and upright models, the company says most enquiries so far have been for the larger cabinets, since the effect is so striking. Is there a downside? There is a premium to pay for the finish - but Precision points out that the extra cost is relatively small in the context of fitting out, say, a boutique hotel or style brasserie.
And yes, if like Henry Ford you like black, you can have your fridge that colour. Though you might want to add a 'super mirror' stainless steel interior and special lighting to brighten it up.
For more information check out the Precision website (http://www.precision-refrigeration.co.uk), or call the company directly on +44 (0)1842 753 994.
Finishes - refrigeration as art.doc – Feb-08
Press Enquiries:
Toni Turner or Alison Haynes at The Publicity Works
Tel: 01263 761000
Jeremy Hall at Precision Refrigeration: +44 (0)1842 753 994
More information on Precision from http://www.precision-refrigeration.co.uk
Separations charge enquiries: offers can only be accepted by fax on 01263 761009.
All offers are considered. We will call you if the answer is 'yes'. Otherwise the answer is, regrettably, 'No'.
Notes for editors
Who Is Precision?

Precision is the newest name in robust, dependable, UK-manufactured refrigeration for commercial catering environments. Precision Refrigeration is run by people who know what matters most in a busy, demanding kitchen. Directors include Jeremy Hall and Mike Williams, both ex-Williams Refrigeration.
Back bar, upright gastronorm cabinets and prep counters are manufactured in stainless steel - delivering the quality and reliability that you expect from a market leader, but at significantly better prices.
Precision is about good, solid, functional products that caterers and their customers can depend on, 24 hours a day, 365 days a year. All products are backed with a straight-talking, no quibble guarantee.
###