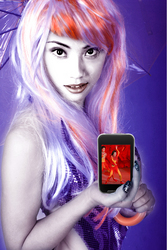 In 2007 the flash memory prices for digital media players jumped due to an unexpected supply problem. But this shouldn't happen again this year
Shenzhen, Guangdong (PRWEB) March 3, 2008
Chinese electronics firms are bent on world domination of the MP3 and MP4 player market this year, according to wholesaler Chinavasion.com. Industry analysts expect Chinese electronics manufacturers to produce more portable MP4 media players - or, as they are also known, Portable Media Players (PMPs) - than manufacturers from any other region this year.
Market research firm, 'Research And Markets' discovered early this year that Chinese electronics firms' MP3, MP4 Player and MP4 watch products accounted for 30% of the entire world market in 2007. Research and Markets analysts noted that China MP4 player sellers wanted to build that market share by another 20% during 2008.
Another market research firm, Global Sources, doesn't expect Chinese manufacturers to have too many difficulties reaching this goal after interviewing Chinese factories in its customer base. A Global Sources Report in February stated that factories the research firm had talked to had all become more efficient while also increasing their capacity.
Rose Li, the PR Manager for Chinavasion said her company is expecting retail prices for MP4 video players to fall within the next 12 months as a result of the drive for market share, "In 2007 the flash memory prices for digital media players jumped due to an unexpected supply problem. But this shouldn't happen again this year," said Li.
Export prices for both HDD PMPs and Flash Disk PMPs could fall by as much as 5%, according to Global Sources.Chinavasion's Rose Li picked prices for 2GB and 4GB MP4 digital players to drop especially, as larger 8GB and 16GB flash MP4 video devices are being introduced.
The quality of made-in-China MP4 players is improving as manufacturers develop new functions such as Bluetooth, higher memory capacity, video recording, and touch screen MP4. However, the market is still largely untapped by online traders and eBay powersellers.
Says Li, "Electronics retailers looking for digital audio / video devices are still focusing much of their attention on brand-name products from companies like Microsoft, Apple, Sony, and Archos. But many great profit opportunities exist for sellers who can bring the more cutting-edge China models to market."
Surprisingly, the MP4 watch is not sold by any of the biggest brand-name producers or their main distributors - even though it's one of the most popular MP4 media player by worldwide sales.
Sellers such as the online gadget shop Thinkgeek are filling the gap by offering high quality MP4 watches sourced from China.
Chinavasion's Li said even medium-scale importers could use reliable wholesale companies to access a wide range of models of China MP4 player as more people around the world asked "what is MP4?"
"Focusing on unique MP4 player products gives electronics sellers an advantage. It's easier to attract customers with unique products than simply trying to compete in crowded brand-name markets," says Li.
Chinese electronics manufacturers are looking to increase their hold on the MP3, MP4 and MP4 watch market. The likely price cuts mean there has never been a better time to start selling MP4 players / PMPs from China.
Chinavasion.com is the leading online drop ship wholesaler for consumer electronics. Accredited by Validated Site, ScanAlert, and Verisign, and listed in all the leading B2B directories, Chinavasion.com is the market leading online wholesale electronics shop for eBay dropship sellers and importers worldwide. For more details visit: http://www.chinavasion.com/
###