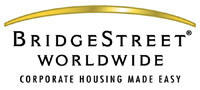 Best Community and Philanthropic Program
Herndon, VA (PRWEB) March 4, 2008
BridgeStreet Worldwide, a leading international provider of corporate housing, has received two "Tower of Excellence" awards, presented at the Corporate Housing Provider Association's (CHPA) annual conference in Las Vegas. BridgeStreet won the award for "Large Provider of the Year - Individual Member." This prestigious honor acknowledges an outstanding member who has demonstrated commitment and excellence within their company and the industry. An additional award was presented for "Best Community and Philanthropic Program", which recognizes the company who has provided the most assistance or benefit to the community.
"It's thrilling to see that we are consistently regarded as one of the most outstanding corporate housing organizations in the Americas and Europe, Middle East and Africa (EMEA) regions," said Lee Curtis, president and chief executive officer of BridgeStreet. "Our goal has always been to create, promote and maintain a quality brand and service standard by which we will be recognized. Our business goals go hand-in-hand with our commitment to philanthropic endeavors; this has instilled a culture of compassion within our organization that has had positive effects on every aspect of our business."
Stephen Hanton, BridgeStreet's chief operating officer and managing director of EMEA, took home the honor of "Large Provider of the Year - Individual Member". The award cited Stephen as an exceptional international leader that is taking the corporate housing product into new countries and cities - expanding the reach of the industry.
"Stephen's outstanding leadership has been instrumental in forging serviced apartments as a mature and recognized sector within the hospitality industry," adds Curtis. "Under his guidance our EMEA region achieved significant economic growth and brand recognition in 2007 that continues to propel BridgeStreet forward toward exciting global opportunities, innovative service programs and industry betterment."
BridgeStreet received the "Best Community and Philanthropic Program" award for its multi-faceted approach to charitable giving. The company organized activities from its annual 5K Run and Beach Olympics to benefit the American Cancer Society and the Adopt a Platoon Soldier Support Effort to local programs supporting homeless shelters and literacy campaigns.
"We have woven a layer of community service and social responsibility into the culture of our organization," said Curtis. "We recognize the need to contribute to the communities in which we do business as well as national organizations that deserve support. I am extremely proud of our associates passion and dedication to the needs of others."
BridgeStreet Worldwide is a leading international provider of corporate housing. BridgeStreet and its Global Partner Alliance offer over 15,000 corporate apartments located throughout the United States and 50 cities internationally. An award winner both in the U.S. and Europe, BridgeStreet properties meet uncompromising standards of quality, comfort and service. For more information about the company or to learn more about how BridgeStreet is Making Corporate Housing Easy, visit http://www.bridgestreet.com or call 1-800-BSTREET.
###