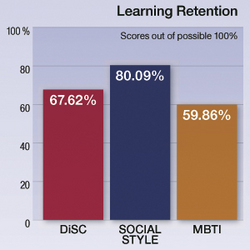 Many organizations have historically relied on 'participant satisfaction' scores to evaluate their training offerings
Fort Collins, CO (PRWEB) March 5, 2008
The Social Style training model is easier to understand and use than either DiSC or Myers-Briggs, according to a new research study from Colorado State University and Regis Learning Solutions. The study is the first-ever comparative study of the three leading training programs in interpersonal skills.
The study evaluated more than 200 people participating in training programs featuring the DiSC model from Inscape Publishing; the Myers-Briggs Type Indicator, or MBTI, model from CPP Inc.; and the Social Style model from The TRACOM Group. It found that while participants in all three programs held very positive reactions to the training programs, participants in Social Style training scored significantly higher in terms of understanding and retaining course concepts and in using those skills to understand and relate effectively with others.
"All three of these programs have been used for decades and have tens of thousands of happy customers," said Professor Kurt Kraiger, director of the Center for Organizational Excellence at CSU. "We felt it was important to conduct a thorough evaluation of the three models and see if there were measurable differences in their impact. This study in fact shows that Social Style does outperform DiSC and Myers-Briggs in terms of workplace training."
Regis Learning Solutions recruited working adults and conducted a series of interpersonal training classes where participants were trained in one of the three programs/models. Facilitators, who were certified by program publishers to teach each specific model, taught all class sessions. After completing the class, participants then were evaluated to measure their reactions to the training, their understanding and retention of the materials and their ability to apply the information.
The results of this study are detailed in a new paper titled, "An Evaluation of the Effectiveness of Three Popular Training Programs to Improve Interpersonal Skills." The full paper, a summary and charts of the findings are available at http://www.learningwhitepapers.com. The paper has been accepted by the American Psychological Association for presentation at their annual conference.
Key research findings:

Participant reaction to training: Participants in all three programs had very positive reactions to the programs and perceived them to be very useful. Overall, Myers-Briggs received the highest rating in this area, slightly more than DiSC and Social Style.
Retention of key concepts: Each person was tested after the training to assess retention of key course concepts. Social Style training participants scored highest, showing an average performance 18 percent higher than DiSC participants and 34 percent higher than Myers-Briggs participants.
Applying learning with others: The final evaluation was of the participants' ability to apply what they learned in the courses when working with others. Each participant was asked to evaluate the behaviors of others and determine their style or type. Social Style training participants were better able to identify the correct style or type, showing a 47 percent improvement over DiSC and 280 percent improvement over MBTI.
Identifying effective ways to work with people: Finally, participants were asked to identify effective ways to work with people based on their known style or type identifications. Social Style training participants were more likely to select appropriate ways to work with others based on style or type. They selected appropriate approaches 24 percent more than DiSC participants and 58 percent more than MBTI participants.
"Many organizations have historically relied on 'participant satisfaction' scores to evaluate their training offerings," said Steve Kirkpatrick, Chief Learning Officer of Regis Learning Solutions. "This research shows that, while participants rate all three programs highly, Social Style has a larger impact on their subsequent performance."
About Colorado State University
The Center for Organizational Excellence is a research-based outreach institution within the Division of Continuing Education at Colorado State University. The Center engages in a number of activities to forge the strategic alliances with external organizations and agencies and build upon the talent and unique capabilities of CSU's faculty and students. Colorado State University is a land-grant institution located in Fort Collins, Colo., with more than 25,000 students, 1,400 faculty, eight colleges and 55 academic departments.
About Regis Learning Solutions
Regis Learning Solutions, a Regis University-affiliated company, provides strategic learning solutions to corporations and organizations around the world. Regis University is a 128-year-old Jesuit institution headquartered in Denver.
Media Contacts:
Nik Olsen
Colorado State University
970-491-7766
Nik.Olsen(at)colostate.edu
Adriana Saldana
Fisher Vista, LLC / HRmarketer.com
831-685-9700
asaldana(at)hrmarketer.com
This press release was distributed through eMediawire by Human Resources Marketer (HR Marketer: http://www.HRmarketer.com) on behalf of the company listed above.
###