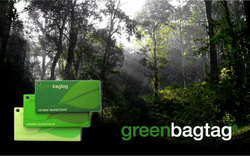 London, UK (PRWEB) March 13, 2008
Globalbagtag.com has joined forces with The Carbon Neutral Company to launch The GreenBagTag. This innovative product combines the worldwide internet luggage protection with a carbon offset credit. The Greenbagtag will be launched in Sweden at the TUR travel exhibition.
The Greenbagtag is available in 3 versions. The light green tag included 0.8 tonne Carbon offset is aimed at the short haul traveller. The medium green tag included 2.7 tonne carbon offset is aimed at the regular traveller who generally takes several short haul or one long haul flights per year. The deep green tag included a minimum of 6 tonnes of carbon offset but can be topped up to suit the travel schedule of the long haul frequent flier.
As well as benefiting the individual traveller the GreenBagTag provides a simple way for companies to implement carbon neutral travel for their employees or customers. GreenBagTag has already been adopted by Solresor, Scandinavia's leading travel company.
The GreenBagTag will initially be available to purchase online at http://www.greenbagtag.com and http://www.globalbagtag.com and soon in retail outlets.
For more information, contact:
U.K.
Chris Truelove -Managing Director
Globalbagtag.com ltd.
Telephone: +44 (0)870 765 7280
Sweden:
Lars Mattiasson
Globalbagtag.se
Telephone: +46 (0)766 452550
###