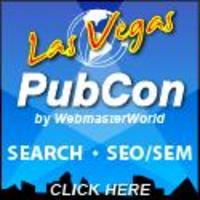 Anyone wishing to speak at the conference should apply with their proposal as soon as possible.
Austin, TX (PRWEB) March 11, 2008
PubCon, the Search Engine & Internet Marketing Conference has announced the dates of November 11-14, 2008 for its Las Vegas event to be held in the North Halls, Las Vegas Convention Center. Being one of the Industry's major events, the Conference and Expo is supported by the industry's leading businesses, speakers, Internet innovators, investors, exhibitors and sponsors.
Brett Tabke, PubCon's organizer and WebmasterWorld's CEO, said, "It's great to be back to our November dates in Las Vegas, this time with a switch to the North Halls at the Convention Center. Our 2007 Las Vegas PubCon once again broke records for attendees and sessions, attracting the industry's top speakers from the Internet's leading businesses around the globe. Once again, our aim, for Las Vegas PubCon 2008, is to deliver an extensive program of educational, highly topical and cutting-edge Internet marketing know-how, and to bring extensive networking opportunities to every attendee. It's a great place to meet and learn!" Tabke continued, "Anyone wishing to speak at the conference should apply with their proposal as soon as possible."
About PubCon
PubCon is hosted by SearchEngineWorld & WebmasterWorld. PubCon events are for thought leaders and professionals in search engine and Internet marketing to gather and to share best practices in the design, development, promotion and marketing of their Internet businesses and brands.
Conference Registration for attendees will open later in the year at http://www.pubcon.com.
For more information about the conference, contact Brett Tabke at 512-231-8107 or brett at webmasterworld.com.
In the U.K., contact Neil Marshall at 512-231-8107 ext 106 or engine at webmasterworld.com.
For more details about sponsorship and exhibition opportunities, contact Strategic Marketing Director Joseph Morin at 512-231-8107 ext 104 or joe at webmasterworld.com.
###