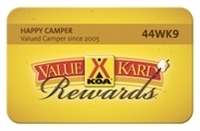 Campers can type in their own preferences, what kind of rig they have, how often they camp - even tell us if they have a dog
Newark, DE (PRWEB) March 12, 2008
A new era in camping has begun when Kampgrounds of America (KOA) launched the camping industry's only online camping rewards program, KOA Value Kard Rewards, with the help of loyalty technology provider, Smart Button Associates.
Smart Button's loyalty platform will provide KOA with the tools needed to run the program by successfully increasing KOA's camper nights through more stays and longer stays. The platform will enable KOA to capture, track and profile in-depth information about their campers.
KOA Value Kard Rewards will replace KOA's existing Value Kard program, which provided 10 percent discounts on camping fees at any of KOA's more than 450 campground in North America. Campers with existing Value Kards will be automatically upgraded into the new program.
The new, groundbreaking Value Kard Rewards program still offers a 10 percent discount, but thanks to KOA's KampSight online technology, campers will be able to earn reward points for every qualified stay at any KOA. Campers will even have their own personalized web page on http://www.koa.com to help them track their points and their travels, as well as provide KOA with their camping preferences.
"Campers can type in their own preferences, what kind of rig they have, how often they camp - even tell us if they have a dog," said Jef Sutherland, KOA's vice president of Information Services. "That's going to allow us to speed up the check-in process and make sure our campers get just what they desire."
Once campers accumulate enough points, the points can be redeemed for reward certificates for their next KOA stay. The membership cost of the new program is $24 a year.
There is even a special "VIP" level for campers who earn 20,000 points during a membership year.
Campers who earn 20,000 points during their membership year will be automatically upgraded to "VIP" status, allowing them to earn even more points and savings when they camp with KOA.
For more information on KOA Value Kard Rewards visit http://www.koa.com/valuekard/vkrewards.htm. For more information about Smart Button, visit http://www.smartbutton.com.
About Smart Button
Smart Button is a leading developer of loyalty marketing solutions and rewards programs for the retail, sports, entertainment and leisure industries. Smart Button's on-demand, web-based loyalty platform helps companies identify their most loyal customers, tailor and segment customer data and use that information to market more effectively.
The platform enables clients to capture, track and profile in-depth information about their customer across multiple transactions and touch points and provides comprehensive insight into valuable information that can help clients build one-to-one relationships with their patrons.
Smart Button's loyalty platform has been helping organizations achieve their business objectives since 1994. Clients include Kampgrounds of America, Inc. (KOA), the Oakland Raiders, San Diego Padres, Arizona Diamondbacks, Mike's Famous Harley-Davidson, Churchill Downs, the Los Angeles Sparks and George Mason University. Smart Button is headquartered in Newark, DE.
NOTE TO PRESS
Comprehensive resources are available for this story, including people and/or product photographs, company and/or product logos, executive interviews, industry sources, white papers, corporate and product briefs and more.
###