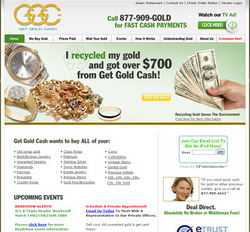 Nothing is more important to our company's business strategy than to successfully recycle as much gold, silver and other precious metals as possible during times of heightened awareness to the fragility of our planet's environment
(PRWEB) March 12, 2008
The push to preserve the environment continues to gain more popularity, a transformation evidenced by how companies are changing the way they do business. Some companies even make their entire business a platform for supporting efforts to save the environment. Get Gold Cash is one of these companies that have initiated a green statement, establishing where they stand on promoting efforts to preserve Earth's resources by recycling old gold jewelry and other precious metals.
"Nothing is more important to our company's business strategy than to successfully recycle as much gold, silver and other precious metals as possible during times of heightened awareness to the fragility of our planet's environment," explains President Craig Nusinov.
As a reputable gold buyer in the industry, Get Gold Cash is committed to helping the environment by encouraging customers to recycle their old gold. By recycling old gold jewelry, sterling silver, platinum, vintage items and other precious metals, Get Gold Cash is helping to reduce the significant impact that mining makes on the environment. Engaging in this easy to follow recycling process allows customers to make a difference while receiving compensation for their recycled jewelry. Recycling with Get Gold Cash alleviates the harmful impact of mining damage as well as reduces the tons of mining waste generated each year.
"Our mail-based gold recycling program is extremely exciting," says David Jacovsky, Vice President of Internet Sales Development. "Not only do our customers get paid a high rate of return for their unwanted gold, silver and platinum jewelry, but they also help reduce the negative and potentially toxic effects on our ecosystem by helping to limit the amount of mining emissions produced during the mining of raw gold."
Get Gold Cash makes it simple for customers to receive cash for recycling old gold jewelry. Following step-by-step instructions, customers simply request a Get Gold Cash Recycle Pak online or by calling 1-877-909-4653, drop their items in the bag and send to Get Gold Cash. Customers can expect to receive their check payment quickly, sometimes even overnight. Their informational, easy to navigate website provides a straightforward method for customers to access the information they need to recycle their gold and other precious metals effortlessly.
For more information about how to recycle unwanted gold and about the green practices at Get Gold Cash, please visit GetGoldCash.com.
About Get Gold Cash, Inc.:
Located in Baltimore, MD and serving customers in all 50 states, Get Gold Cash recycles unwanted gold, old jewelry and precious metals, offering customers cash for their recycled items. A gold buyer boasting four generations of experience in the precious metals business, Get Gold Cash helps to preserve resources and minimize new gold mining through their recycling process.
###