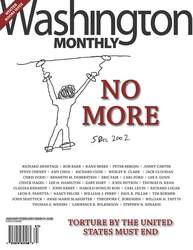 It is the first time a large bipartisan group has come together to write individual articles advocating a no-loopholes ban on torture
Washington, D.C. (PRWEB) March 12, 2008
Top political leaders from both parties have written essays in the current issue of the Washington Monthly magazine calling for an end to the use of torture by any U.S. government agency, including the CIA.
The authors include former U.S. president Jimmy Carter, former Bush administration officials Richard Armitage and Lawrence Wilkerson, Republican senators Richard Lugar and Chuck Hagel, 9/11 Commission heads Lee Hamilton and Tom Kean, Speaker of the House Nancy Pelosi, Democratic Senators John Kerry and Christopher Dodd, along with numerous generals, admirals, intelligence officials, interrogators, and religious leaders.
Many of the authors, including Senators Kerry and Hagel and Richard Armitage, as well as former U.S. Senator Gary Hart, Kenneth M. Duberstein, Vice Adm. Lee F. Gunn, Brigadier Gen. Steve Cheney, and Lt. Gen. Claudia Kennedy, are board members of the American Security Project, a bipartisan think tank in Washington D.C., which collaborated on the project. The essays form the cover package of the magazine's latest issue, which was released this week.
Torture remains an unresolved issue. On Saturday, March 8, President Bush vetoed legislation that would have barred all agencies of the U.S. government from using "enhanced interrogation" techniques such as waterboarding on terror suspects. Senator John McCain, long a torture opponent, unexpectedly voted against the ban, arguing that the CIA should not be subject to the restrictions. But the authors of the essays in the Washington Monthly all agree that a ban on torture should apply to all agencies of the U.S. government, and that it was a profound moral and strategic mistake for the United States to abandon longstanding policies of humane treatment of enemy captives after September 11, 2001.
Current and former leaders of both parties have previously spoken out against and signed joint letters opposing the administration's torture policies. But this collection of essays represents a new approach. "It is the first time a large bipartisan group has come together to write individual articles advocating a no-loopholes ban on torture," says Washington Monthly editor in chief Paul Glastris.
"Restoring America's moral authority in the world is an urgent matter of national security. This issue of Washington Monthly is a courageous and strong statement. I hope it reminds us all of who we are as a people and the values we hold most dear," said Jim Ludes, executive director of the American Security Project.
The Washington Monthly is a 38-year-old magazine of politics and government read closely by Beltway insiders. The essays can be read here: Washington Monthly: No Torture. No Exceptions.
Complete list of contributors: Richard Armitage, Bob Barr, Rand Beers, Peter Bergen, Jimmy Carter, Steve Cheney, Amy Chua, Richard Cizik, Wesley K. Clark, Jack Cloonan, Chris Dodd, Kenneth M. Duberstein, Eric Fair, Carl Ford, Lee F. Gunn, Chuck Hagel, Lee H. Hamilton, Gary Hart, John Hutson, Thomas H. Kean, Claudia Kennedy, John Kerry, Harold Hongju Koh, Carl Levin, Richard Lugar, Leon E. Panetta, Nancy Pelosi, William J. Perry, Paul R. Pillar, Tim Roemer, John Shattuck, Anne-Marie Slaughter, Theodore C. Sorensen, William H. Taft IV, Thomas G. Wenski, Lawrence B. Wilkerson, Stephen N. Xenakis
SELECTED HIGHLIGHTS:
Bob Barr: "The effect of witnessing a federal government operating according to Bizarro World standards instead of those enshrined in our Constitution and legal system is truly frightening…Waterboarding…had always been considered torture by civilized governments such as ours--until, of course, this administration."
Jimmy Carter: "Many courageous human rights defenders who document and report human rights violations throughout the world say that these actions by the United States rob them of the tool that has been central to their success: the ability to name and shame human rights violations."
Kenneth M. Duberstein & Richard Armitage: "President Reagan understood that our response to threats must neither diminish who we are nor undermine our values. It was President Reagan who said, 'Coercion, after all, merely captures man. Freedom captivates him.'''
Chuck Hagel: "The public acknowledgment on February 5 by CIA Director Michael Hayden that the U.S. government has engaged in waterboarding is a disgrace to America and the values we represent."
Tim Roemer: "As a member of the 9/11 Commission, I listened to hundreds of briefings and dozens of testimonies and read thousands of documents detailing the intricacies of the terrorist attacks that occurred on September 11, 2001…In all that time, no one suggested to me that if only we had tortured someone, we could have prevented 9/11."
Lawrence B. Wilkerson: "The worst horrors of our war have yet to be revealed--but they will be. Secret prisons, renditions, homicides, torture, and innocents swept up in a vast network of detention--all will be revealed. It is the nature of our openness that it be so."
Please direct press inquiries to Rachel Morris of the Washington Monthly (202-393-5155 ext. 300) or to Amy Gergely of the American Security Project (202 347-3115).
###