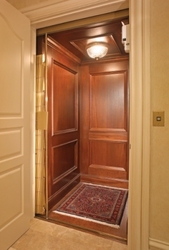 You can choose to match an existing home design, create a one-of-a-kind masterpiece using ornate patterns or family crests, or select one of Inclinator's decorative panel options
Harrisburg, PA (Vocus) March 13, 2008
Inclinator Company of America, a leader in the residential elevator industry, introduces the most advanced elevator to ever enter the home -– The INCLINATOR® LX.
After more than two years in development, the INCLINATOR LX, dubbed as the luxury car that never leaves your home, combines proven commercial elevator technology with one-of-kind custom interior design options -- taking the home elevator to a whole new level.
As part of the product launch, the new home elevator was unveiled to more than 90,000 custom home builders, architects, interior designers and other industry professionals during The 2008 International Builders Show (IBS), in Orlando Florida.
Tapping into knowledge of a European commercial elevator manufacturer, Inclinator, developed a more advanced gearless traction motor, creating a super smooth ride and a virtually noiseless operation. With absolutely no hydraulic or gear oil, the INCLINATOR LX is also friendlier to our environment than other home elevators.
And, while the near-silent drive system and smooth ride make the home elevator an attractive extra, it's Inclinator's new decorative panels that are catching the eye of the homeowners, architects and interior designers.
In this all-new car style, the walls, and even ceiling, are designed from a solid wood frame with hardwood veneer raised panels. By digitally printing a custom design and applying it to the wood, Inclinator creates a look resembling an inlaid finish.
"You can choose to match an existing home design, create a one-of-a-kind masterpiece using ornate patterns or family crests, or select one of Inclinator's decorative panel options," says Steve Nock, Inclinator CEO.
All of these features are in addition to Inclinator's "best in the industry" custom cars. Inclinator handcrafts each elevator individually, allowing builders and homeowners to select car sizes up to 15 sq. ft. with up to three door openings in any configuration.
Inclinator Company of America, a residential elevator company based in Harrisburg, Pa., invented the home elevator in 1928. Today there are more Inclinator® elevators in homes across the country than any other brand. Inclinator® home elevators are popular with architects and builders because of their nearly limitless design possibilities. And homeowners love them because of their beauty and reliability.
All of Inclinator's products are produced in its South Central Pennsylvania manufacturing facility. For information on Inclinator's full product line visit http://www.inclinator.com.
Contact:
Hope Banner
Scheffey Integrated Marketing
717-569-8274
Steve Nock
COO, Inclinator
800-343-9007
###